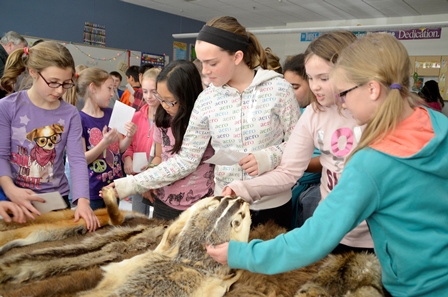 Kris Hubbard
Dear Educator:

Welcome to the Devils Tower National Monument Education Office. Our goal is to provide a variety of educational curriculum support with focused programs, experiences and activities for interested students and groups of all ages. We offer creative interactive programs in a variety of subject areas including but not limited to geology, earth sciences, astronomy, history, cultures, environment, archeology, wildlife, plant life, climbing, outdoor education and fitness.
Planning a field trip to Devils Tower, you can schedule a Ranger guided field trip at the National Monument involving a 90 minute interpretive hike. To request a field trip, please compete and submit the "Field Trip Request Form". Your school is also eligible for submitting the "Educational Fee Waiver Application" as well as the "Educational Fee Waiver Instructions". Keep in mind that a large majority of schools request field trips during the months of April, May, September and October and due to the limited trail size and safety, you may be asked to schedule on a less crowded day.
Interested in having a Park Ranger deliver programs at your school, our "Devils Tower in Your Classroom" All of the programs can be customized to the grade level and subject matter required by the teacher(s). A Park Ranger can present a "Pre-visit" and "Post-visit" program at your school for those classes planning to visit DTNM this year. These classroom visits can be arranged by contacting us and submitting the "In Your Classroom Reservation Form".
Program lengths can be adjusted to fit your classroom schedule and/or combined classroom times for your student's grade level. These programs consist of PowerPoint presentations and hands on activities and are generally from 45-60 minutes in length. The combination of re-visit and post-visit activities help in meeting or exceeding the Common Core State Standards and national curriculum standards. If teachers have a specific focus for their students, we will gladly customize our program to fit your needs. You will also find additional support pages, in the left-hand margin (Plan a Field Trip; Curriculum Materials; Guest Speakers and Other Resources), helpful.
Please share this information with your fellow staff members. You may make a request for field trips and classroom visits by submitting the Field Trip Request Form by clicking on e-mail us or fax the request, to (307) 467-5350. After the request is received, you will be contacted by the Education Office staff. Confirmation will be set through a return email. Please contact us at your convenience for any additional requests, information or scheduling.
Education Ranger
Phone: (307) 467-5283; ext. 637
Devils Tower National Monument
P.O. Box 10
Devils Tower, WY 82714-0010