Current Volunteer Opportunities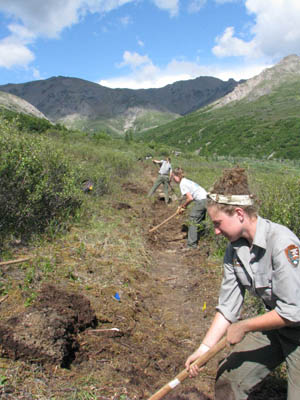 National Trails Day is Saturday, June 6
Join the Denali Trail Crew for a grand opening celebration and a day of work on the Horseshoe Lake Trail.
Hike and Build
Try your hand at trail maintenance activities such as seeding, constructing trail, brushing, and rehabilitating disturbed areas. Expect two to four miles of moderate hiking over uneven terrain. Volunteers will use hand tools to complete projects on the trail.

This is a great opportunity to learn how trails are built in a sub-arctic environment. It will also be a chance to get your hands dirty as you help maintain a part of this special place.
More Details
Who: You and your friends/family. Children must be accompanied by an adult.

What: A celebration, trail hike, and trail work.

Bring water, lunch, snacks, hiking boots, raingear, and clothing layers.

Safety gear and tools will be provided.

When: Saturday, June 6. Meet at 11:45 a.m. The work day will conclude at 4 p.m.

Where: Meet in the automobile (not RV) parking lot on the north side of the Denali Visitor Center, located at mile 1.2 on the Denali Park Road. Look for uniformed NPS employees.

Questions: Contact the Denali National Park and Preserve Volunteer Office by Email or call 907-683-9504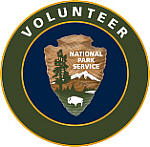 The volunteer program at Denali
Each year, volunteers contribute more than 60,000 hours to Denali National Park and Preserve. Retired couples, individuals, school groups, scouts, clubs and organizations - people just like you - donate their time and efforts to provide essential services at Denali's visitor centers, offices, kennel operations, campgrounds, and even on the majestic slopes of North America's highest mountain. Our volunteers also contribute long hours constructing trails, eradicating invasive plants, gathering native seeds and assisting park researchers with a variety of projects.

More than 500 people annually make the time to give something back to this American treasure in Alaska. Depending on the opportunity, volunteers may donate several months at a time or perhaps a few hours. If this sounds like something you may be interested in, please read further.

During the summer months, housing within the park is limited. We have dedicated trailer pads with hook-ups in the headquarters area, and one trailer pad each at Teklanika River and Wonder Lake Campgrounds. Volunteers who apply through the Student Conservation Association program often have a better chance to secure employee housing.

If experiencing Denali in the winter interests you, we have lots of housing and projects to keep a person busy. The "off" season is a great time for us to organize and prepare for the busy summer.
In their own words
"Volunteering at Denali National Park was a once in a lifetime experience. We were fortunate enough to work at Eielson Visitor Center ... and live at Toklat in the interior of the park. Wow! The people were absolutely wonderful. They were totally accepting of us and included us in all activities as if we were park service employees. Some have become lifelong friends. Their trust in us allowed us to staff the visitor center solo, give campground talks at Wonder Lake, and lead Discovery Hikes, our favorite activity.
We experienced bears just about every day. A nearby pack of wolves with six pups provided entertainment and inspiration. The views of "the mountain" were unbelievable. Hiking in the wilderness gave us a sense of life there and a sense of ourselves. We hope we were able to give a tiny bit back for what we received from the experience."
Bill and Barbara Wellman, 2004
"Spring newborns ... rushing streams ... beautiful flowers ... rugged, snow-capped mountains ... acres of untouched wilderness ... close-up sightings of wildlife living in their natural habitat, unaffected by human interference ... spectacular colors ... places to explore ... majesty Mount McKinley ... new friends! What better place than Denali National Park and Preserve to volunteer!"
Ron and Beth Shugan
Teklanika Campground hosts, 2006 - 09
America the Beautiful - National Parks and Federal Recreational Lands Volunteer Pass
This pass is for volunteers who donate 250 hours on a cumulative basis. Valid for a year from the date of being awarded, it provides access to, and use of, federal recreation sites that charge an Entrance or Standard Amenity Fee. The pass admits the pass holder and passengers in a non-commercial vehicle at per-vehicle fee areas and admits the pass holder plus three other adults at per-person fee areas. Children under 16 are admitted free.

Student Conservation Association (SCA)
Each summer, Denali National Park recruits a limited number of young students from the non-profit Student Conservation Association. Student interns engage in activities such as trail work,
interpretive duties
, resource management, and working with the
park sled dogs
. Students who successfully complete their commitments may apply for the Segal AmeriCorps Education Award.
Learn more about the SCA
or
AmeriCorps
I
f you have further questions, please contact:
Volunteer Coordinator
Denali National Park and Preserve
P.O. Box 9
Denali Park, AK 99755
907-683-9504 or
e-mail
.