Frequently Asked Questions
Q: Does Dayton Aviation Heritage NHP have planes on display?
A: The Wright-Dunbar Interpretive Center has small-scale replicas of the Wrights' three gliders. The Huffman Prairie Flying Field Interpretive Center has a variety of small-scale replica planes highlighting the Wrights' 1905 Wright Flyer III, along with a 1934 Martin B-10 "Flying Whale", a 1967 F-111 Aardvark, and others. You can view full-scale replicas of planes at the nearby National Museum of the United States Air Force (937) 255-3286.

Q: What government agency oversees the National Park Service?
A: The National Park Service is a bureau of the Department of the Interior.

Q: How old is the National Park Service?
A: The National Park Service was created by an Act signed by President Woodrow Wilson on August 25, 1916. Yellowstone National Park was established by an Act signed by President Ulysses S. Grant on March 1, 1872, as the Nation's first national park.

Q: How many areas are there in the National Park system?
A: The National Park System consists of over 400 sites covering more than 84 million acres. Every state including the District of Columbia, American Samoa, Guam, Puerto Rico and Virgin Islands is home to at least one NPS site. These areas include national parks, monuments, battlefields, military parks, historic parks, historic sites, lakeshores, seashores, recreation areas, scenic rivers and trails, and the White House.

Q: What is the largest/smallest National Park unit?
A: Largest - Wrangell-St. Elias National Park and Preserve, AK - 13.2 million acres
Smallest - Thaddeus Kosciuszko National Memorial, PA - 0.02 acres

Q: What is the origin of the National Park Service arrowhead?
A: The arrowhead was authorized as the official National Park Service emblem by the Secretary of the Interior on July 20, 1951. The Sequoia tree and bison represent vegetation and wildlife values, the mountains and water represent scenic and recreational values, and the arrowhead represents historical and archeological values. It was registered February 9, 1965, by the U.S. Patent Office as the official emblem of the NPS.
Q: What other National Park Service sites are there in Ohio?
A: The National Park Service has a total of eight national park sites in Ohio in addition to Dayton Aviation Heritage National Historical Park. Click on a site's full name to be taken there. Each park's "alpha code" is bolded in parenthesis. See map at bottom of page for geographic locations of these Ohio NPS sites. Click on the park's picture on the map to be taken to their website.
SOUTHERN OHIO NPS GROUP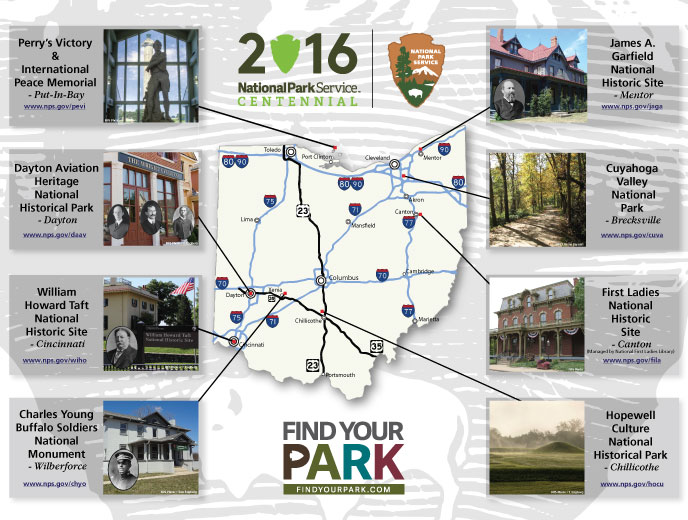 NPS / T. Engberg