NPS Seeks Comment on Proposed Regulation for Off-Road Bicycle Trails

NPS has proposed a special regulation to designate and authorize off-road bicycle use on new trails constructed outside of developed areas in Cuyahoga Valley National Park. The public is invited to provide comment until Monday, December 15, 2014. More »
Other Closures

Valley Bridle Trail south of SR 303, across from golf course, is collapsed by river. Hard closure. Plateau Trail Bridge, north of Valley Picnic Area is closed. No detours. Plateau & Oak Hill trails are open. More »
Things To Do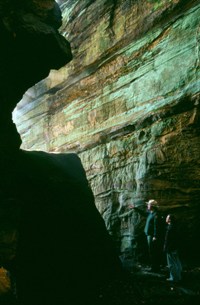 ©Tom Jones
Cuyahoga Valley National Park is a destination for millions of visitors each year. With many different facilities and attractions in the park, there is something to interest everyone.
Listed to the left are featured attractions that the whole family can enjoy. Whatever you choose to do, remember to take some time to relax and enjoy your time in the park!


Did You Know?

November is the time to be on the lookout for bald eagles performing aerial courtship displays. Once eagles have selected each other, they plunge through the air in very high dives, locking their talons and breaking apart just when it looks as though they will crash to the ground.