Valley Bridle Trail Partial Closure

A section of the Valley Bridle Trail is closed across from the Brandywine Golf Course. There is no estimate of when this section will be open. Please observe all trail closures. More »
Plateau Trail Partial Closure

The outer loop of the Plateau Trail is closed at the Valley Picnic Area junction for bridge repair. The bridge is now unsafe for pedestrian traffice due to accelerated erosion around the base. More »
Bald Eagle Closure in Effect Until July 31, 2014

Returning bald eagles are actively tending to last year's nest within the Pinery Narrows area in CVNP. To protect the eagles from human disturbance, the area surrounding the nest tree will be closed until July 31, 2014. More »
Cuyahoga Valley Scenic Railroad (CVSR) Bridge Construction Closures

Rockside and Canal Visitor Center boarding sites will be closed through Apr 27. From Jan 18 - Mar 16, CVSR will operate between Akron Northside and Brecksville stations. From Mar 22 - Apr, CVSR will operate between Akron Northside and Peninsula. More »
Do Not Feed the Waterfowl and Birds!

Many people enjoy feeding waterfowl and birds, but the effects of this seemingly generous act can be harmful. Regular feeding can cause: unatural behavior, pollution, overcrowding, delayed migration, and poor nutrition and disease.
Closure on Fishing Will Remain in Effect for Virginia Kendall Lake

Due to the government shutdown, we were unable to survey the fish community in VK Lake as scheduled. Our survey partners (ODNR) will not be able to get into the lake until early spring of 2014. Therefore, the closure on fishing will remain in effect. More »
Things To Do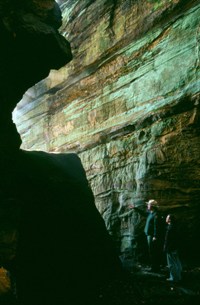 ©Tom Jones
Cuyahoga Valley National Park is a destination for millions of visitors each year. With many different facilities and attractions in the park, there is something to interest everyone.
Listed to the left are featured attractions that the whole family can enjoy. Whatever you choose to do, remember to take some time to relax and enjoy your time in the park!


Did You Know?

The Ohio & Erie Canal, which runs through Cuyahoga Valley National Park, was a 308-mile waterway connecting Lake Erie to the Ohio River. This transportation route, which influenced local and national prosperity, was dug entirely by hand by mostly German and Irish immigrants.