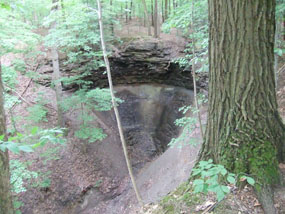 nps photo/nick roll
Linda Falls
Location: Buckeye Trail
Trailhead: Alexander Bike Lot & Trail Head, Alexander Rd., Walton Hills 44146
Distance: ~ 2 Miles
Elevation: 30 Feet
Interest: This is a little visited waterfall that is usually dry. Wait for a heavy rain to visit this crater like waterfall. Walk south on the All Purpose Trail (do not cross Alexander Rd.). Turn off on the Buckeye Trail, pass under the power lines, and follow along the edge of the ravine. It is a pleasant trail that will lead you straight to the falls.