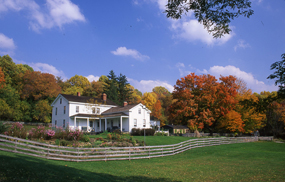 ©TOM JONES
Lodging in the Park

Inn at Brandywine Falls
Open All Year
8230 Brandywine Road
Sagamore Hills, OH 44067
(330) 467-1812
www.innatbrandywinefalls.com
Overlooking Brandywine Falls (a 65-foot natural wonder) in Cuyahoga Valley National Park, this six-room bed and breakfast, built in 1848 is on the National Register of Historic Places. It has been luxuriously renovated and modernized but keeps its historic Greek Revival appearance and character. It is furnished in Ohio antiques and features quality amenities and gourmet foods. The Inn at Brandywine Falls provides easy access to Brandywine Falls and nearby hiking and biking trails.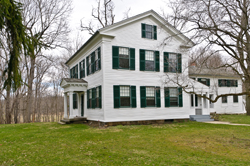 NPS Ted Toth
Stanford House
Open All Year
6093 Stanford Road
Peninsula, OH 44264
(330) 657-2909
The remodeled house is available as a high-quality day or overnight use facility, and provides moderately priced overnight accommodations for park visitors in close proximity to numerous visitor amenities.

Stanford House Includes:
- Nine Bedrooms
- One limited mobility bedroom w/attached restroom ·
- Two community restrooms, each with two stalls and two showers
- Self-service kitchen with high-quality appliances
- Comfortable community living room
- Rustic dining room
- Scenic park-grounds with trail accessibility and ample parking

Amenities include:
- Wireless Internet access
- Beautiful picnic grounds
- Outdoor fire circle
In addition to individual room rentals, the entire facility may be rented for business meetings, overnight retreats, and family gatherings. To make reservations, please contact the Conservancy for Cuyahoga Valley National park's reservations coordinator at (330) 657-2909 ext 119 or email us at info@cvnpa.org.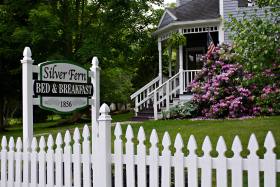 Courtesy of Silver Fern Bed & Breakfast
Silver Fern Bed and Breakfast
1856 Main Street
Penisula Oh, 44264
(330) 417-7194 or (330) 608-2645
Conveniently located on the doorstep of Peninsula Historic District and also nestled near the Cuyahoga Valley National Park, this beautifully renovated 1874 Colonial bed and breakfast awaits your arrival.
Whether your day has been filled with travel or activities in the Park, unwind with a cold beverage under the canopy on the patio. Open the French Doors and allow the shiny hardwood floors lead you to the double parlor of this charming retreat that offers the best of the past and present. Relax and read choosing from the home's library or take in the surrounding area's nightlife, whichever you choose, when it it time to retire, your queen-sized bed will envelope you with comfort.
There is a private bathroom and flat screen television in each room only leaving you to decide which specially designed room fits your needs best.