Towpath Trail Closure

Towpath Trail is closed from Mustill Store to Memorial Parkway for riverbank reinforcement. Detours posted. Closure will last 1 - 4 weeks into August. More »
Other Closures

Valley Bridle Trail south of SR 303, across from golf course, is collapsed by river. Hard closure. Plateau Trail Bridge, north of Valley Picnic Area is closed. No detours. Plateau & Oak Hill trails are open. More »
Riverview Road Repaving

Riverview Rd is being repaved from the Cuyahoga-Summit Cty line to Peninsula through Mon, 9/15. Road is open but there are still delays due to construction. Allow extra time. More »
Plan Your Visit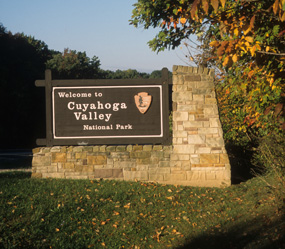 Welcome!
A trip to Cuyahoga Valley National Park offers a diverse array of activities. Whether you prefer attending ranger-guided programs or exploring the park on your own, you can find something to your liking.
Take a hike, ride the scenic railroad, explore the visitor centers, attend a concert, or bike the Towpath Trail. Whatever your preferences, the links to the left will guide you to additional information.
Park Closures - Be informed of trail, road, and facility closures outside of normal operations. Also listed are construction projects within the park that do not require a closure, but are of interest to our visitors.


Did You Know?

Lock 27 along the Ohio & Erie Canal became known as Johnnycake Lock after several boats ran aground due to flooding. While stranded, supplies ran low and canal passengers and crew ate only corn meal pancakes, known as "johnnycakes".