Canal Visitor Center Closure

Canal Visitor Center will be closed for construction, starting Monday, May 6, 2013. It will reopen with new exhibits in early 2014.
Riverview Road Closure

Riverview Rd from the Cuyahoga Falls line north to the Peninsula line will be re-paved, beginning the week of April 22. Expect delays. Flaggers will direct traffic. Final resurfacing and striping will take place following the Memorial Day holiday.
Bald Eagle Closure in Effect

RR tracks, and 30 foot right of way on either side, are closed to all foot traffic from the Rt. 82 Bridge at Station Rd, north to the RR tracks at. The Cuyahoga R. downstream of the Brecksville Dam to the Fitzwater Rd Bridge is closed to water activities.
Canalway Questing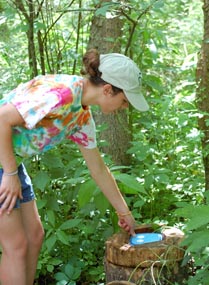 COURTESY OF GIRL SCOUT TROOP 30609
What is Questing?
Find more than 30 adventures-called quests-in the Ohio & Erie Canalway! Put on your sleuthing hat and follow rhyming clues and a curious map to each hidden quest box. Along the way, discover the area's treasures-the natural and cultural gems of the Canalway.
Unlike geocaching, no GPS unit is needed and no trinkets are exchanged. When you find a quest box, collect its unique stamp, sign its logbook, and put it back in place for others to discover.
The 2013 season runs from Monday, April 15 through Friday, November 15.
For more information and to download quests, visit www.ohioanderiecanalway.com and search under the Activities tab on the top, then select Questing. Quests are also available at visitor centers in our park.

Summer Questing Events
Sunday, June 9 and Saturday, August 24
Stop by to chat with park rangers and Quest Crew volunteers about the Canalway Questing program. Pick up quest clues and carve your own signature stamp. Hunt Farm Visitor Information Center, 1 - 3 p.m.
Arrye Rosser, interpretive and education specialist at Cuyahoga Valley National Park, manages the Canalway Questing project. Contact her at e-mail us or call (440) 546-5992.
Did You Know?

American Indians in the Cuyahoga Valley were influenced by the Hopewell Culture, which created large mound complexes in central Ohio from 100 B.C. – A.D. 500? In the Cuyahoga Valley, American Indians built small mounds rather than large ceremonial centers.