Temporary Bridge Installed at Brandywine Creek

A temporary bridge has been installed over Brandywine Creek and visitors will be able to complete the Brandywine Gorge Trail, during good weather. The bridge may be flooded and impassable during heavy rains. Caution signs are in place. More »
Trail Closures

Towpath Trail is closed from Mustill Store to Memorial Parkway for riverbank reinforcement. Detours posted. Closure will last 1 - 4 weeks into August. Valley Bridle Trail south of SR 303, across from golf course, is collapsed by river. Hard closure.
Road Closures

Quick Rd is closed from Akron Peninsula Rd to Pine Hollow Trailhead in Peninsula, from Wednesday, 7/16, for 6 weeks. Detours posted. Hines Hill Rd is closed from Tuesday, 7/29 through Tuesday, 8/12 for resurfacing from I271 to the Boston Township Line. More »
Riverview Road Repaving and Closure

Riverview Rd is being repaved from the Cuyahoga-Summit Cty line to Peninsula through Mon, 9/15.Road is open with single lane closures. Riverview Rd is closed from Boston Mills Rd to the Cuyahoga Cty line starting Mon, 7/14 for for 3 weeks. Detours posted. More »
Canalway Questing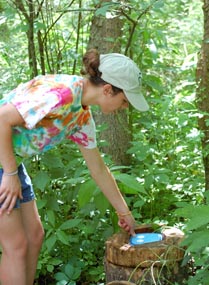 COURTESY OF GIRL SCOUT TROOP 30609
What is Questing?
Find more than 40 adventures-called quests-in the Ohio & Erie Canalway! Put on your sleuthing hat and follow rhyming clues and a curious map to each hidden quest box. Along the way, discover the area's treasures—the natural and cultural gems of the Canalway.
Unlike geocaching, no GPS unit is needed and no trinkets are exchanged. When you find a quest box, collect its unique stamp, sign its logbook, and put it back in place for others to discover.
Each year, the questing season runs from April 15 through November 15.
For more information and to download quests, visit www.ohioanderiecanalway.com and search under the Activities tab on the top, then select Questing. Quests are also available at Boston Store Visitor Center, located at 1550 Boston Mills Road, Peninsula 44264.


Arrye Rosser, interpretive and education specialist at Cuyahoga Valley National Park, manages the Canalway Questing project. Contact her at e-mail us or call 440-546-5992.
Did You Know?

The Ohio & Erie Canal, which runs through Cuyahoga Valley National Park, was a 308-mile waterway connecting Lake Erie to the Ohio River. This transportation route, which influenced local and national prosperity, was dug entirely by hand by mostly German and Irish immigrants.