Valley Bridle Trail Partial Closure

A section of the Valley Bridle Trail is closed across from the Brandywine Golf Course. There is no estimate of when this section will be open. Please observe all trail closures. More »
Plateau Trail Partial Closure

The outer loop of the Plateau Trail is closed at the Valley Picnic Area junction for bridge repair. The bridge is now unsafe for pedestrian traffice due to accelerated erosion around the base. More »
Bald Eagle Closure in Effect Until July 31, 2014

Returning bald eagles are actively tending to last year's nest within the Pinery Narrows area in CVNP. To protect the eagles from human disturbance, the area surrounding the nest tree will be closed until July 31, 2014. More »
Cuyahoga Valley Scenic Railroad (CVSR) Bridge Construction Closures

Rockside and Canal Visitor Center boarding sites will be closed through Apr 27. From Jan 18 - Mar 16, CVSR will operate between Akron Northside and Brecksville stations. From Mar 22 - Apr, CVSR will operate between Akron Northside and Peninsula. More »
Do Not Feed the Waterfowl and Birds!

Many people enjoy feeding waterfowl and birds, but the effects of this seemingly generous act can be harmful. Regular feeding can cause: unatural behavior, pollution, overcrowding, delayed migration, and poor nutrition and disease.
Closure on Fishing Will Remain in Effect for Virginia Kendall Lake

Due to the government shutdown, we were unable to survey the fish community in VK Lake as scheduled. Our survey partners (ODNR) will not be able to get into the lake until early spring of 2014. Therefore, the closure on fishing will remain in effect. More »
Canalway Questing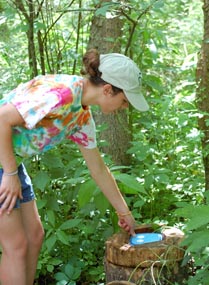 COURTESY OF GIRL SCOUT TROOP 30609
What is Questing?
Find more than 30 adventures-called quests-in the Ohio & Erie Canalway! Put on your sleuthing hat and follow rhyming clues and a curious map to each hidden quest box. Along the way, discover the area's treasures-the natural and cultural gems of the Canalway.
Unlike geocaching, no GPS unit is needed and no trinkets are exchanged. When you find a quest box, collect its unique stamp, sign its logbook, and put it back in place for others to discover.
The 2013 season runs from Monday, April 15 through Friday, November 15.
For more information and to download quests, visit www.ohioanderiecanalway.com and search under the Activities tab on the top, then select Questing. Quests are also available at visitor centers in our park.

Summer Questing Events
Sunday, June 9 and Saturday, August 24
Stop by to chat with park rangers and Quest Crew volunteers about the Canalway Questing program. Pick up quest clues and carve your own signature stamp. Hunt Farm Visitor Information Center, 1 - 3 p.m.
Arrye Rosser, interpretive and education specialist at Cuyahoga Valley National Park, manages the Canalway Questing project. Contact her at e-mail us or call (440) 546-5992.
Did You Know?

Early September is the time to watch monarchs feed in Cuyahoga Valley fields rich with goldenrod and New England aster. These places serve as important re-fueling sites for these long distance travelers on their way to oyamel forests near Mexico City more than 2,000 miles away.