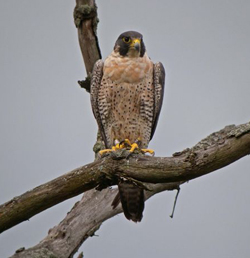 ©C. Saladin
Peregrine Falcon Description
The peregrine falcon's scientific name is Falco peregrinus, which means "falcon wanderer." It is about the size and weight of a crow and normally grows to 15 inches in length with a 40-inch wingspan. The speed of a peregrine falcon has been said to reach 175 miles per hour or more.
Adults have long, pointed, dark blue-gray wings and backs, barred with black, and pale undersides. Their faces are white with a black stripe on each cheek, and they have large, dark eyes. Females are larger and more powerful than males.
Although they have a high mortality rate, peregrines have been known to live as long as 15 years.



Breeding Information
Peregrine falcons usually begin breeding at about two years old. The nest itself is little more than a shallow scrape, shaped by the birds in soil or accumulated debris. The nest holds three or four eggs (slightly smaller than those laid by chickens) that are mottled with a dark, reddish-brown pigment. Both adults incubate the eggs, and eggs hatch in about 33 days.