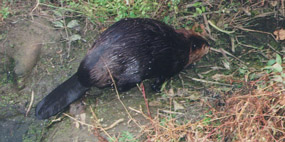 ©JOHN CATALANO
Numerous wildlife species-birds, mammals, amphibians, reptiles, and fish populations-depend upon the river's habitat for shelter, food resources, nesting, and breeding grounds.
The success of several inland nesting colonies of great blue herons in the lower Cuyahoga river valley is a reflection of favorable habitat created by an abundant beaver population, along with protection of the valley by local land management agencies, watershed organizations and individuals.
River otters, animals that prefer unpolluted waters with an abundance of slow moving fish have found a home at the Beaver Marsh along the towpath across from Howe Meadow.
Abundant wildlife populations such as deer, coyote, muskrat, mink, and raccoon that use multiple habitat types also use the riparian area of the river for cover, water and food resources.
The use of the river and its riparian habitat by a diversity of wildlife species including threatened and endangered and sensitive species is a direct result of improvement in water quality. Read more in our