What it Means to be "Green"
Cuyahoga Valley National Park in partnership with Conservancy for CVNP, Cuyahoga Valley Scenic Railroad (CVSR), and the Countryside Conservancy are committed to pursuing the highest standards possible focused on sustainable operations and projects. We have collectively accomplished the following starting in 2012.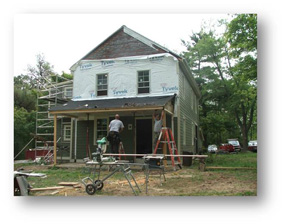 NPS
Green Maintenance for Buildings:

Certified wood from sustainable foresting
Low emitting fume paint (low VOC)
Reuse or salvage of building materials during rehabs: doors, windows, trim, hardware, wood flooring, brick, stone, wood framing, light fixtures
Recycling of some construction debris: metals- Insulating walls, ceilings, and attics where possible in historic structures
Installation of energy efficient windows and/or storm windows and doors
Conversion to 96% efficient furnaces in over 40 park buildings- Replacement of standard HVAC to Zone Systems for energy efficiency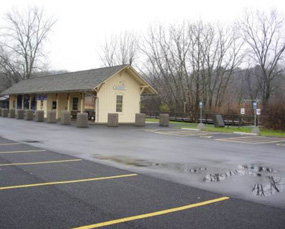 NPS
Green Maintenance for Roads:
Porous paving filters the water to pass through a series of aggregates before exiting into the watershed thereby reducing pollutants and slowing the movement of water into the surrounding environment. No freezing or thawing occurs so less deicer is used within these areas - a benefit to our natural resources.
Stabilized turf parking allows for a green parking area with aggregate base
Locations using the porous pavement are the Rockside Railroad Boarding Station parking lot, the new Brandywine Falls parking lot, and the Cancasci House at the corner of Route 82 and Chaffee Road.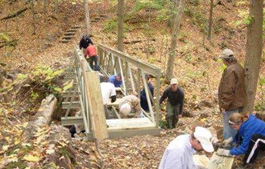 NPS
Green Maintenance for Trails:
Sustainable trail design to reduce impacts to the resource
Utilize natural ntormwater management by slowing water down
Fiberglass or FRP (fiber reinforced polymer) bridges have less impacts to natural resources during installation, lower maintenance, less stream impacts with clear span and cost reduction using volunteer work force.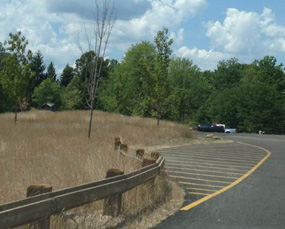 NPS
Green Maintenance for Grounds:
Modified mowing schedule targets higher service to visitor use areas
Mow areas reduced around park to lower carbon footprint by decreasing mowing emissions, pollutants, noise, and vehicle mobilization
Native grasses are better for habitat – birds, animals, and pollinators (butterflies, bees, dragonflies).
Low-Mow Grasses used to reduce mowing frequency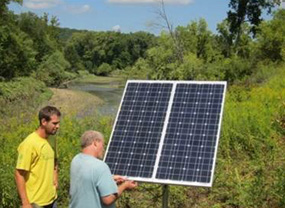 NPS
Countryside Initiative green farming practices:
Riparian buffers- Rotational grazing
Cover cropping
Solar powered fencing and water pumps
Minimal use of synthetic pesticides and fertilizers
Direct marketing to the consumers
Crop and livestock diversification
On farm composting
Cooperative purchases and equipment use to reduce carbon footprint
Sustainability News
Cuyahoga Valley National Park introduces a new series of articles, written by our volunteer sustainability reporters, educating visitors about sustainabilty issues within the park and with its partners. Click here to link to the sustainability news page.