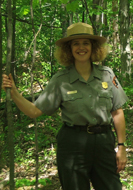 NPS/EVElyn cossel
Hi, I'm Arrye Rosser, interpretive and education specialist at Cuyahoga Valley National Park. I'd like to introduce and thank everyone who helped fulfill my dream of expanding the For Kids section to be more useful to elementary students and teachers working on school projects. In the end, over 50 people were involved!
---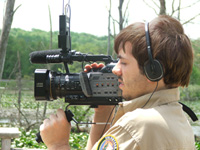 NPS/Evelyn Cossel
Partnership With Cuyahoga Valley Career Center
One of the most exciting aspects of this project was partnering with Cuyahoga Valley Career Center, a local technical high school. Media Technology Instructor Bernie Van Tilburg guided us through the video production. Two of his high school students, Lacy Tilley and Joe Battaglia worked first as volunteer interns and later as seasonal employees shooting and editing video and posting it online. Video editing takes a long time—and, just like the writing process, there are lots of drafts. Over several months, Lacy and Joe regularly sat down with Jennie Vasarhelyi, the park's chief of interpretation, education, and visitor services, as well as Arrye and Bernie to get feedback on their work. Lacy is now a student at Cuyahoga Community College and Joe is now a student at Ohio University. Both are pursuing careers in video and audio production.
This was a real learning experience for everyone and has inspired us to plan future projects together.

---
Local Elementary Schools
Involving young people was an important part of this project. In spring 2009, Lacy and Joe videotaped students at three local schools asking questions about the park. Arrye gave each fifth grade teacher a list of topics ahead of time, so the students could prepare. Most questions are related to what the students learned about in school, either in fifth grade or in previous years—but some were just asked out of curiosity. All the students did a great job thinking up interesting questions and speaking in front of the camera. In the end, we used more questions than we planned: over 70!
We'd like to thank Karen Grindall's class at Portage Path Elementary School in Akron, Bobbi Huston's class at Elizabeth Price Elementary in Cuyahoga Falls, and John Faust's class at Bath Elementary School in Bath.
Park Experts
Once we received the student questions, we lined up nine park experts to answer them. Park Rangers Heather Berenson and Josh Bates appear on video and also helped prepare students during the filming. Park Rangers Rebecca Jones, Scott Van Houten, and Pam Machuga mostly tackled questions about the valley's human history. Park Ranger Rachel Repko described her favorite trail. Lisa Petit, chief of resource management, answered park science questions. Larry Blachard, director of operations for Cuyahoga Valley Scenic Railroad, shared his train knowledge. Jennie Vasarhelyi, the park's chief of interpretation, education, and visitor services, handled a variety of subjects.
---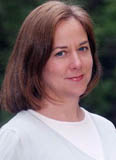 courtesy/mary kay Carson
The Writers
Mary Kay Carson is a nonfiction children's author who has written over 20 books for kids on science and social studies topics. Using resources provided by the park, she wrote the For Kids sections about park ecosystems, rangers, scientists, geology, and history. Jennie Vasarhelyi and Arrye Rosser provided comments on her drafts, sometimes sending them out for additional review by other experts. It took us a few months to go through the writing process. Mary Kay lives in Cincinnati, so most of our communication was done by e-mail.
Park Ranger Ryan York read many first-person accounts of life in this area during past eras. He recommended quotes that were most relevant to the project, and then he worked with Arrye to narrow down the list and write
profiles of each author. The results are under Changes in Daily Life.

Volunteer Sustainability Reporter Emily Bryant is a student at Baldwin Wallace College who is doing an internship with Arrye. Emily interviews people in the park who doing green projects and writes about their work and ways for readers to help the environment, too. Emily and Arrye work together to refine the text. Two of Emily's articles appear under Earth-Friendly Living.
Volunteer Youth Reporter Katie Naymon is a high school student at Laurel School who is also doing an internship with Arrye. Katie attends park programs and interviews kids about what they enjoy most about the national park. You can read quotes from kids participating in Get Up, Get Out & Go! under Park Fun.
---
This project was made possible by the generous support of a 2009 Parks as Classrooms grant from the National Park Service, with additional funding from Eastern National.
You can get involved too by giving us feedback on what you like best about the For Kids pages and what we need to improve. E-mail your comments to e-mail us. Thanks for coming Behind the Scenes with me!