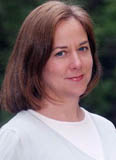 courtesy/mary kay Carson
The Writers
Mary Kay Carson is a nonfiction children's author who has written over 20 books for kids on science and social studies topics. Using resources provided by the park, she wrote the For Kids sections about park ecosystems, rangers, scientists, geology, and history. Jennie Vasarhelyi and Arrye Rosser provided comments on her drafts, sometimes sending them out for additional review by other experts. It took us a few months to go through the writing process. Mary Kay lives in Cincinnati, so most of our communication was done by e-mail.
Park Ranger Ryan York read many first-person accounts of life in this area during past eras. He recommended quotes that were most relevant to the project, and then he worked with Arrye to narrow down the list and write
profiles of each author. The results are under Changes in Daily Life.