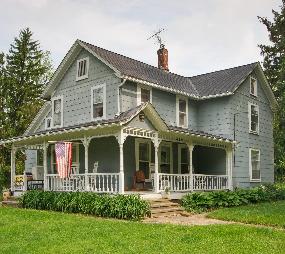 ©Jeffrey Gibson
Changes through Time
In 1940, after the death of young Nathanial Point III, the family decided to leave their farm. Daniel Biro, a Hungarian immigrant, later purchased the property. His subsistence farm supported his four children and their families during lean times. They moved a large farmhouse from nearby Quick Road and split it in two, so everyone had a home. The Biros made additional income by selling gravel and topsoil.
During the establishment of Cuyahoga Valley National Park, the National Park Service bought the historic farm. For a time, it was used as office space for the park friends' group. By the end of the 20th century, it was rehabilitated and became a Countryside Initiative farm. The property's agricultural heritage has been restored. Terry and Cindy Smith now run the Goatfeathers Point Farm here, humanely raising pastured meat goats and heritage breed turkeys.