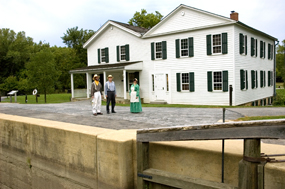 NPS/ Ted Toth
Moses and Polly Gleeson
Imagine leaving civilization for the wilderness. By 1818, a Moses Gleeson and his wife Polly Richardson Gleeson had moved to Bedford, Ohio, at wilderness edge. Like many who came to the new state of Ohio looking for a better life, Mr. Gleeson was a farmer and a business man, farming and trying his hand at sawmilling, then at the tavern business. A business associate convinced him to purchase the property located at Lock 38 as an investment, speculating on the potential of the new Ohio & Erie Canal. Moses Gleeson bought the structure on the canal, then added to it to open it as both a tavern and a store. Eventually hard times found that tavern, and the building became a store, a residence, and a blacksmith shop, among other uses. The Gleeson family remained prominent in the area and in Bedford and in time Americanized the name to Gleason.
For more of their story, visit Canal Exploration Center, opening Saturday, May 17, 2014.