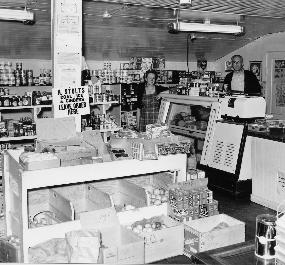 Courtesy/Peninsula Libary and Historical Society
Valley Railway
In 1880, the Valley Railway established a depot near the crossroads and gave the community the name Everett, after the company's secretary-treasurer. With the establishment of rail transportation came Everett's first post office. The train provided the chief link with the outside world by bringing in mail and shipping out farm produce.
Carter's General Store
During the 1920s and 30s, Maude Carter owned Carter's General Store on Everett Road, selling mostly canned and boxed goods and gasoline. The store also had some meats and fresh produce. Bruce and Bertie Hamilton owned the business from 1944 to 1967, proving postal service from 1948 until 1953 (when service moved to Peninsula).