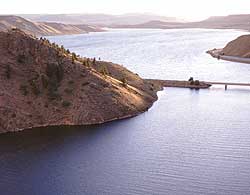 NPS Photo by Lisa Lynch
All boaters on Blue Mesa Reservoir should be aware that strong afternoon winds, sometimes accompanied by storms, can cause hazardous conditions. Be weatherwise: watch for threatening cloud build ups. As soon as strong winds begin to blow, head for shore.
Water temperatures remain cold through much of the season. Windsurfers and water skiers are advised to wear wet suits.
Fees on Blue Mesa Reservoir
All motorized and/or state-registered vessels on Blue Mesa Reservoir will be required to have a boat permit.
$30.00 for an annual permit (calendar year)
$10.00 for a 14-day permit
$4.00 for a 2-day permit
These user fees are half-price for those visitors who possess the Interagency Senior or Access Pass.
---