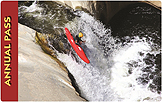 Interagency Annual Pass - $80.00
The Interagency Annual Pass is valid for all National Park Service and U.S. Fish and Wildlife Service entrance fees, and Bureau of Land Management, Bureau of Reclamation, and Forest Service sites that charge a standard amenity fee. (This pass is not valid for other National Park Service fees such as camping, boat tours or boat permits).

This pass permits entry for the pass holder and accompanying passengers in a single, private, noncommercial vehicle at parks that charge a per vehicle entrance fee.

The Interagency Annual Pass is valid for one year from the month of purchase, and is non-transferable. Passes sold over the Internet will be punched with an expiration date prior to shipment.