Cave Tour Alert!

White Nose Syndrome is a disease that is killing bats in great numbers and has been found in park caves. While visiting Gap Cave please do not wear or bring anything that has been in other caves. Skylight Cave is currently closed.
Cumberland Gap Tip Line

Help protect your national park! Report any crimes or suspicious activity including damage or theft of park resources. More »
Places To Go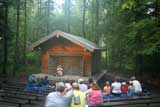 NPS Photo
Cumberland Gap National Historical Park is a great place to explore with 85 miles of trails, camping, abundant wildlife, and opportunities to experience history first hand!


Did You Know?

Between 1775 and 1810 some 300,000 settlers crossed Cumberland Gap and began settling the land west of the Appalachians. These brave pioneers were following dreams of prosperity in the wilderness of Kentucky.