Cumberland Gap Tip Line

Help protect your national park! Report any crimes or suspicious activity including damage or theft of park resources. More »
No Cave Tours or Hensley Tours on September 27

There will be no Gap Cave or Hensley Settlement tours offered on September 27, 2014 due to special Heritage Walk program. For more information please call the park visitor center at (606) 248-2817, extension 1075.
Sugar Run Trail Closed to Horses

The Sugar Run Trail is temporarily closed to horse use due to the number of fallen trees as a result of recent storms. The trail is still open for hikers, but hikers should use caution.
Back the Bears!

Support the park's "Back the Bears" campaign and help keep our bears wild and safe! More »
Visitor Centers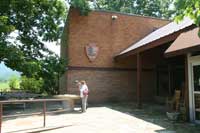 NPS Photo
The park visitor center is open daily from 8:00 am to 5:00 pm. The visitor center is closed on Christmas Day.
Phone (606) 248-2817
Location
The Cumberland Gap National Historical Park Visitor Center is located on U.S. Highway 25E just south of Middlesboro, Kentucky.
The visitor center houses a museum with hands-on exhibits, book sales outlet, an auditorium featuring two films, and Cumberland Crafts, a member of the Southern Highland Craft Guild, which showcases handmade crafts from the region.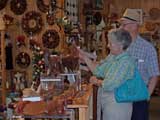 NPS PHOTO
The Guild features crafts from the nine states representing Appalachia and celebrates these crafts by hosting artisans. Especially on weekends, visitors might be able to chat with a weaver, a potter or a cooper. Or perhaps visitors might be able to see glass rods magically transformed into dazzling, glistening beads.
Also visit Eastern National's bookstore, the park's non-profit cooperating association, offering a variety of publications on the park's rich mosaic of cultural, natural and historical resources.

The park's visitor center complex is accessible, allowing for wheelchair use. Designated parking allows easy access to the building.
Daniel Boone Visitor Information Center
The Daniel Boone Visitor Information Center is located just off Highway 58 near the town of Cumberland Gap, Tennessee.
It is the location of the trailhead for the Wilderness Road. An outdoor pavillion features the sights and sounds of early travelers and pioneers.
Tickets for Gap Cave tours can be purchased at this location prior to departure.
Restroom facilities are on site.


Did You Know?

Civil War buffs will appreciate the fact that the famous Confederate Brigadier General Felix Zollicoffer personally supervised the construction of the earthen fortifications at Cumberland Gap.