No Cave Tours or Hensley Tours on September 27

There will be no Gap Cave or Hensley Settlement tours offered on September 27, 2014 due to special Heritage Walk program. For more information please call the park visitor center at (606) 248-2817, extension 1075.
Sugar Run Trail Closed to Horses

The Sugar Run Trail is temporarily closed to horse use due to the number of fallen trees as a result of recent storms. The trail is still open for hikers, but hikers should use caution.
Back the Bears!

Support the park's "Back the Bears" campaign and help keep our bears wild and safe! More »
Cave Tour Alert!

White Nose Syndrome is a disease that is killing bats in great numbers and has been found in park caves. While visiting Gap Cave please do not wear or bring anything that has been in other caves. Skylight Cave is currently closed.
Campgrounds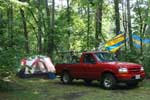 NPS Photo
The 160 site Wilderness Road Campground is located approximately 3 miles from the park visitor center off of Highway 58 in Virginia.
20, 30 and 50 amp electrical hookups are available at 41 of the paved sites. Hot showers and potable water are located in the comfort stations. Camping rigs up to 50 feet can be accomodated at these sites. Most of the sites require backing in with the exception of one pull through site.
Campsites are available on a first-come, first-served basis.
Camping fees:
$14.00 per night per site for tent sites with no electricity,

$20.00 per night per site for electrical hookup.
All tent and RV sites are one-half price for Golden Age, Interagency Senior Pass and Interagency Access Pass holders.
Group campsites are available. Cost is $35.00 per night per site.
Reservations for group campsites can be made up to 90 days in advance by calling the park visitor center at (606)248-2817.
FIREWOOD ALERT!
Please purchase or gather firewood locally to avoid bringing in the exotic Emerald Ash Borer or the Asian Long Horned Beetle. These exotic insects can be easily spread by bringing in infested firewood from outside the area.
more...
Please be aware of bears! Bears are active in the backcountry. All food must be properly stored using approved bear proof containers or elevated to a height of at least 10 feet. Please report any bear activity to a park ranger or by calling the park visitor center at (606) 248-2817. more...


Did You Know?

At one time it was proposed that a gigantic head of Abraham Lincoln be carved in the face of the Pinnacle Overlook.