All roads and facilities are open

The Visitor Center is open daily from 8 a.m. to 4:30 p.m. Obtain a permit before entering any authorized cave.
Accessibility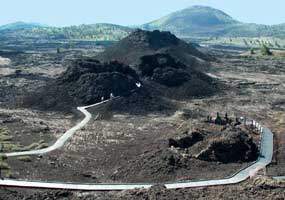 Photo by Tim Frazier
Mobility
The visitor center, including restrooms, is fully accessible.

Restrooms in the campground are fully accessible and there is a fully accessible campsite in the campground.

Devil's Orchard Trail, the "Snow Cone" portion of the Spatter Cones trail and the sidewalk connecting the campground to the visitor center are fully accessible. Complete trail accessibility information
Hearing and Visual

All audio-visual presentations in the visitor center museum are captioned. In addition, the short film is provided with an option for audio description.

Audio description and assistive listening devices are available for all presentations in the visitor center auditorium.

Hard copy scripts or outlines are available for all interpretive presentations by request.





Did You Know?

In 1969 Apollo 14 astronauts Alan Shepard, Edgar Mitchell, Joe Engle and Eugene Cernan visited Craters of the Moon. They explored the lava landscape in order to learn the basics of volcanic geology in preparation for future trips to the moon.