Accessibility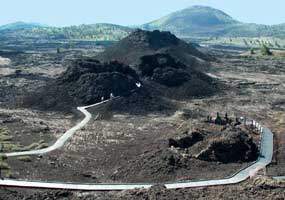 Photo by Tim Frazier
The National Park Service welcomes people with disabilities.
The Interagency Access Pass provides free entrance to all National Park Service sites and other benefits. Visit this link to find out more about the Access Pass.

Mobility
The visitor center, including restrooms, is fully accessible.

Restrooms in the campground are fully accessible and there is a fully accessible campsite in the campground.

Devil's Orchard Trail, the "Snow Cone" portion of the Spatter Cones trail and the sidewalk connecting the campground to the visitor center are fully accessible. Complete trail accessibility information
Hearing and Visual

All audio-visual presentations in the visitor center museum are captioned. In addition, the short film is provided with an option for audio description.

Audio description and assistive listening devices are available for all presentations in the visitor center auditorium.

Hard copy scripts or outlines are available for all interpretive presentations by request.





Did You Know?

In 1970 Craters of the Moon became one of the first areas in the National Park System to be designated as a federal Wilderness area. Craters of the Moon contains vast areas where visitors have an opportunity to experience the earth as it was. More...