Vehicle-Free Days on East Rim Drive

The park will host two vehicle-free days on East Rim Drive, September 20 and 27, 2014. Although East Rim Drive will be closed for these events, all other roads through the park will remain open to vehicular traffic. More »
Lost Creek Campground CLOSED Nights of 9/19 and 9/26

Lost Creek Campground will be CLOSED from 3:00 PM Friday, 9/19 until 5:00 PM Saturday, 9/20 because of the temporary road closure to vehicles on East Rim Drive. It will also be CLOSED from 3:00 PM Friday, 9/26 until 5:00 PM Saturday, 9/27.
Stage 1 Fire Restrictions in Effect

To ensure public safety and to provide the highest degree of protection to park resources, restrictions on campfires, smoking, and fireworks are in effect. More »
Nearby Attractions
Other Attractions
Deschutes & Ochoco National Forest : Three Sisters Wilderness, Crooked River National Grassland, Newberry National Volcanic Monument
Fremont - Winema National Forest : Volcanic Legacy All-American Roadway, Mount Thielsen Wilderness
Rogue River - Siskiyou National Forest : Sky Lakes Wilderness, Rogue-Umpqua Divide Wilderness
Umpqua National Forest : Rogue-Umpgua Oregon Scenic Byway, Thundering Waters
Cascades Volcano Observatory : Information on the Cascade Ranger volcanoes
Klamath Basin National Wildlife Refuges : many sites on the Klamath Basin Birding Trail, Klamath Basin Canoe Trails
Local Partners & Information Resources
Travel Southern Oregon
: Destinations, RV blog, bicycle trails and more.
The Klamath Trib
es : Information on the history, government and services of the Klamath, Yahooskin and Modoc confederated tribes
Cow Creek Band of Umpqua Tribe of Indians
: Tribal government, news and services information

Discover Klamath
: Klamath County tourism information and visitor guide and the
Klamath Basin Birding Trail
.


Did You Know?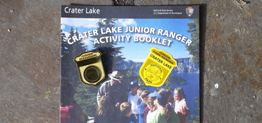 Kids can earn their Junior Ranger badge year round. Stop in the Steel Visitor Center to pick up the activity booklet and more information.