Canoeing and Kayaking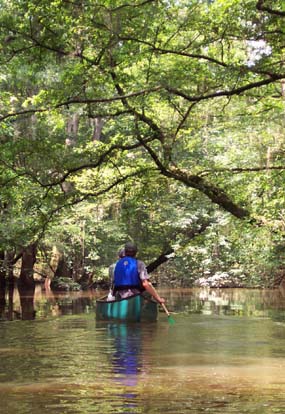 NPS Photo
Traveling by canoe or kayak is a great way to enjoy this primeval wilderness while floating past some of the tallest trees in eastern North America. Paddling is also a thrilling way to encounter the diverse wildlife of the park. Deer, river otters, turtles, snakes, and raccoons are a few of the animals that may be seen.
The park offers a limited number of guided canoe tours on Cedar Creek by reservation each year. Canoes are provided for tour participants only and are not available for rent in the park. Individual canoeing at Congaree is a BYOC (bring your own canoe) experience. Canoes and kayaks can be rented from outfitters in Columbia.
There is a marked canoe trail on Cedar Creek, the largest channel that flows through the floodplain. The Congaree River can also be paddled, but there is no vehicle access to the river within the park boundaries.
Be aware of potential hazards such as poison ivy, mosquitoes, wasps, spiders, and snakes which inhabit the park in ample numbers. Bring insect repellent, a first-aid kit, life jackets, a compass, a map (available at the Visitor Center or on this website), and extra food and water. Remember to wear comfortable clothing, and be prepared to get muddy. Although marked, the Cedar Creek Canoe Trail may be hard to follow in places. When in doubt, keep a keen watch for the diamond-shaped markers. However, because of Wilderness designation regulations, canoe trail markers are limited.