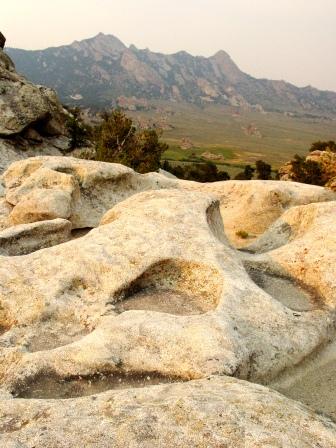 Almo Pluton
The Almo Pluton is made of igneous rock formed by the slow cooling of magma that intruded into older rock. Granitic rock of the Almo pluton makes up most of the spires in the City of Rocks. The Almo pluton is cut in many areas by dikes of younger intrusive rocks. Pegmatite dikes in the Almo pluton commonly contain very large crystals.
The Almo pluton originated as an intrusive body of magma and therefore has complex contact relationships with the surrounding country rock. The contact is best exposed on the eastern and southern margins of the pluton where the magma intruded Archean gneiss and granite of the Green Creek Complex. The most dramatic contact between these granitic rocks is in the saddle that separates the Twin Sisters.
One of the most obvious features of the Almo pluton are the cracks, known as joints, that cut across every outcrop. The orientation and spacing of the joints plays a critical role in controlling the size, shape, and distribution of spires in the City of Rocks. There are three processes that that have created the joints at City of Rocks; contraction, extensional tectonics, and expansion related to the release of pressure as overlying rock is removed by weathering and erosion.
_________________________________________________________________________________