Frequently Asked Questions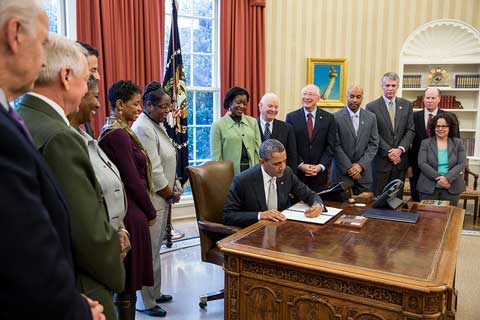 Photo courtesy of The White House
Q: When was Charles Young Buffalo Soldiers National Monument created?
A: Charles Young Buffalo Soldiers National Monument was established when President Barack Obama exercised the authority vested in him, under Section 2 of The 1906 Antiquities Act, on March 25th, 2013. Read the full Presidential Proclamation. Read the 1906 Antiquities Act which gives Unites States Presidents the authority to protect and preserve public lands by placing them aside as national monuments.
---
Q: Is Charles Young Buffalo Soldiers National Monument open for visitation?
A: No and yes. At this time, the park is not yet open on a regular basis to the public, but interpretive programs and exhibits are currently being developed. However, some limited tours are being offered during select days the rest of 2014. To view which dates and times are available, please visit the Public House Tours page. For more information about the park planning, volunteer opportunities and event & tour dates visit the Operating Hours and Seasons page.
---
Q:
Where did the name "Buffalo Soldiers" originate?
A:
After being established by congress in 1866, these all-black regiments were sent to the Western frontier during the Indian Wars. It was while fighting with the Plains Indians that the name was born. Rival Plains Indians would refer to these men of the all-black regiments as "buffalo soldiers" based on the resemblance of their dark, curly hair to that of a buffalo's coat and because of their fierce nature of fighting which was also a trait of the buffalo.
---
Q: What other National Park Service sites are there in Ohio?
A: The National Park Service has a total of nine national park sites and three other sites/areas in Ohio.
In addition to Charles Young Buffalo Soldiers National Monument, they are:
Click on site's full name to be taken there. Park's "alpha code" is bolded in parenthesis. See map at bottom of page for geographic locations of these Ohio NPS sites. Click on the park's alpha code on the map to be taken to their website.
Cuyahoga Valley National Park (CUVA) preserves over 33,000 acres of the pastoral Cuyahoga River Valley between Akron and Cleveland.

Dayton Aviation Heritage National Historical Park

(DAAV) preserves the legacy of Paul Laurence Dunbar, Wilbur and Orville Wright and the early development of aviation in Dayton.

First Ladies National Historic Site

(FILA) preserves and interprets the roles of America's First Ladies and their impacts on our nation's social and political history.
Hopewell Culture National Historical Park (HOCU) preserves and protects the remnants of Earthen mounds and embankments forming huge geometric enclosures built by Native American hands over 2,000 years ago.

James A. Garfield National Historic Site

(JAGA) preserves and interprets the story and personal belongings of the 20th President of the United States, James A. Garfield.

Perry's Victory and International Peace Memorial

(PEVI) commemorates the Battle of Lake Erie during the War of 1812.

William Howard Taft National Historic Site

(WIHO) commemorates the only man to serve as Chief Justice of the Supreme Court of the U.S. and President of the United States.

David Berger National Memorial

(DABE) honors the memory of David Berger, an American citizen who was one of 11 Israeli athletes killed during the 1972 Olymplic Games. (This site is located at the

Mandel Jewish Community Center of Cleveland

).

Fallen Timbers Battlefield and Fort Miamis National Historical Site

(FATI) recognizes, preserves and interprets U.S. military history and Native American culture between 1794-1813. (Site is managed by

Metroparks of Toledo

).

North Country National Scenic Trail

(NOCO) links scenic, natural, historic, and cultural areas across seven states (NY, PA, OH, MI, WI, MN & ND), allowing visitors to experience a variety of northern landscapes.
Did You Know?
Long before "Youngsholm" became the permanent residence of Charles Young & his family, the house was once a stopping point for runaway slaves on the Underground Railroad. Designated a National Historic Landmark in 1974, the house would eventually become nation's 401st National Park Service site More...