Frequently Asked Questions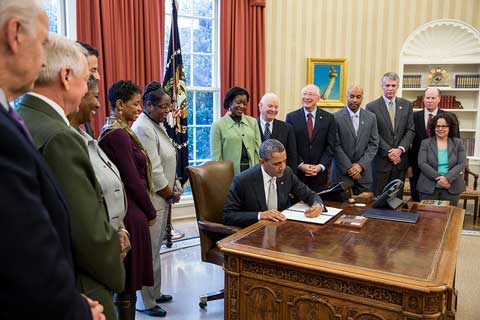 Q: When was Charles Young Buffalo Soldiers National Monument created?
A: Charles Young Buffalo Soldiers National Monument was established when President Barack Obama exercised the authority vested in him, under Section 2 of The Antiquities Act, on March 25th, 2013. Click here to read the full Presidential Proclamation.
---
Q: Is Charles Young Buffalo Soldiers National Monument open for visitation?
A: At this time, the park is not yet open to the public, but interpretive programs and exhibits are currently being developed. For more information about the park planning, tours or volunteer opportunities, click here.
---
Q:
Where did the name "Buffalo Soldiers" originate?
A:
After being established by congress in 1866, these all-black regiments were sent to the Western frontier during the Indian Wars. It was while fighting with the Plains Indians that the name was born. Rival Plains Indians would refer to these men of the all-black regiments as "buffalo soldiers" based on the resemblance of their dark, curly hair to that of a buffalo's coat and because of their fierce nature of fighting which was also a trait of the buffalo.
---
Did You Know?
In 1866, Congress established six all-black regiments (consolidated to four shortly after) to help rebuild the country after the Civil War and to fight on the Western frontier during the "Indian Wars." These regiments went on to serve with distinction and honor for over eight decades until the disbandment of the 27th Cavalry in 1951 which brought the end of the famed "Buffalo Soldiers." More...