Restricted Access to Central High School

All park visitors, including tour buses, must park in the Visitor Center parking lot at 2120 West Daisy Gatson Bates Drive. Street parking is reserved for Little Rock School District buses and parents. Visitors may enter the school only on guided tours.
Holiday Closings

The National Historic Site Visitor Center will be closed on Thanksgiving Day, December 25 and January 1. The Visitor Center may close at 2:30 PM on the day before each of these federal holidays. The Visitor Center number is 501.374.1957.
Guided Tours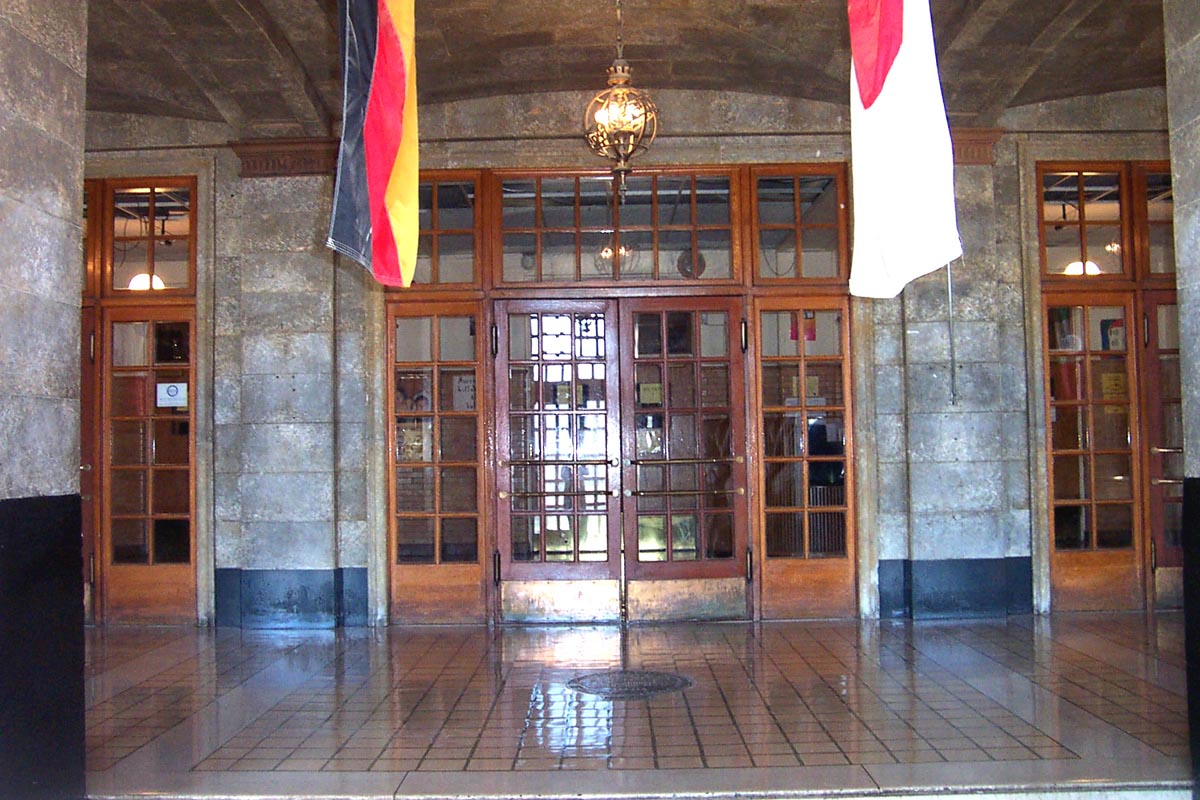 Guided Tours of Little Rock Central High School
Rangers offer guided tours of the high school by reservation only. These tours are limited to a maximum of 50 participants and must be reserved a minimum of two weeks in advance by calling (501) 374-1957. The school is an operating high school, so visitors are strictly prohibited from entering or touring the school on their own or without being accompanied by the National Park Service.
Typically, ranger-led tours of Little Rock Central High School are scheduled on weekdays only at 9:00 a.m. and at 1:15 p.m. Tours will not be scheduled on federal holidays, Little Rock School District holidays or other dates of school closure.
This walking tour lasts at least
45 minutes. If climbing steps is
difficult for anyone in the group,
please notify the ranger before
the tour begins so that an accessible
route may be taken.
Please note: The school remains an operating high school and we must respect the needs of the students and faculty. Tour times may be altered or canceled during school testing or other events. Please do not bring food or drinks, cell phones, large purses, or backpacks into the school. Tours of the interior of the school are not available on weekends or during some holiday periods when the school is closed. Tour size is also limited to minimize disruption for the school. All groups should make a reservation at least 2 weeks in advance; groups over 40 may be asked to break into smaller groups. Streetscape tours that remain on the exterior of the school building may be offered as an alternative for larger groups or groups whose visits cannot be arranged to coincide with the regular school tour schedule. For more information, please call 501-374-1957 or email us.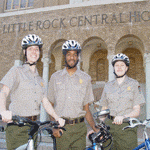 Ranger -led Bicycle Tours
Discover parts of the Trail of Tears right here in downtown Little Rock. See the places where the events of 1957 played out in the city. Join park rangers for guided rides and see a new side of your community's history.Tours are offered on weekends in the spring and early summer, so check our schedule of events for an updated list of days and times.
Participants must bring their own bikes, helmets, water, and any other necessary gear. Riders under age 18 must be accompanied by a parent or guardian. Click here to download a map and list of stops for the Civil Rights in Little Rock tour.
Special thanks to Jeannie Moss and Elisha Ramer of Bicycle Advocacy of Central Arkansas for providing safety training to our rangers. For more information about BACA, click here.
Did You Know?

In 1958 Senior Ernest Green became the first African American graduate of Central High School. Martin Luther King, Jr. attended the ceremony as a guest of the Green family. Little Rock Central High School National Historic Site