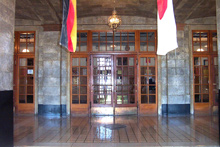 NPS Photo
Reserve a Tour
Park Rangers offer guided tours of the school by reservation. Tours can be scheduled at 9:00 A.M. and 1:00 P.M. on weekdays when the school is in session, including during summer months. Making a reservation two weeks in advance is recommended. Tours fill up quickly.
Tour Times: Monday –Friday, 9:00 A.M. &1:00 P.M.

(when school is in session)

Duration: Approximately 1 Hour Group Size: Maximum of 50;there is no minimum

(Groups larger than 50, call for special arrangements.)

Location

: All tours start at the visitor center

(map)

Accessibility: An accessible entrance is available that avoids stairs and

an elevator can be taken between floors.

Price: Free of Charge
For Reservations: Call (501) 374-1957
Description: The route of the tour will be dependent on school activities that day. The typical route will involve ascending and descending three flights of stairs and approximately a half mile of walking on walkways with good footing.
When reserving a tour please be prepared with the following information: ·
Name for the group ·
Number of people ·
Contact phone number (preferably a cell phone with the group) ·
Email address if you would like a confirmation sent
Any special needs or accessibility needs
Important things to know
Park all vehicles in the visitor center parking lot - cars, buses, and RVs
Groups of ten (10) or more, send a representative in to notify a Ranger you've arrived
Please leave large bags and backpacks in your vehicle
Little Rock Central High School is an active school with an enrollment of over 2,500 students.
Out of respect for the school and students, the following regulations are strictly enforced:
Do not try to enter the school on your own. The only way to see the inside of the school is with a Ranger guided tour.
Photography, video, and cell phone use are prohibited while inside the school.
Tours can only be offered when the school is in session. On weekends, days out of session and in some other cases we will not be able to get inside. See information on "Streetscape" tours below.
Guided tours cannot interfere with the operations of the school. There may be some days where areas of the school are off limits to tour groups.
If you will be late for your reservation or you need to cancel please call the visitor center as soon as possible.
"Streetscape" Tours
These short walks are a good alternative when we cannot go into the school. Most of the same information is covered as on the school tours but we will remain outside.
Visitors will take a walk down Park St. while a Park Ranger retells the turbulent events of the first days of integration in 1957. These short guided walks allow you to walk the street that captured the world's attention in 1957, stand on the steps where the 101st Airborne soldiers escorted the Little Rock Nine into the building that September, and reflect upon the lasting significance of those events in the Commemorative Garden.
Tour Times: On request

Duration: Approximately 45 minutes

Group Size: Maximum of 50;there is no minimum

(Groups larger than 50, call for special arrangements.)

Location:

All tours start at the visitor center (

map

)

Accessibility: The route is accessible.

Price: Free of Charge
For Reservations: Call (501) 374-1957
Description: The route of the "Streetscape" tour is approximately a quarter mile in length over paved and mostly level surfaces.;