Canal and River Structures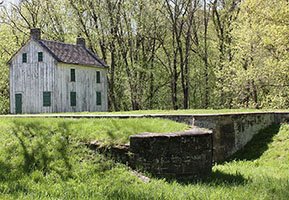 Visitors to the C&O Canal NHP today can see many structures which were integral to the operation of the canal, including locks, lockhouses, aqueducts, bridges, culverts, feeder dams, and waste weirs. Even the canal is a historic structure - the canal itself is called the "prism," because the surface of the canal bed is wider than the bottom, making it prism-shaped. The prism was lined with clay to keep the water sealed inside.
Many of the structures which now remain are made of stone. The stonemasons were the most prominent craftsmen of the canal, painstakingly cutting blocks of stone to as small a tolerance as a half-inch. Today, the highway bridges that vault the river and the canal are formed of concrete, but this sort of construction did not develop until well after the canal was built. Concrete was not used on the canal until 1906, and is most commonly found as replacement work in waste weirs and lock pockets.
One of the most iconic images of a C&O Canal structures is a lift lock, often called simply a lock. The 74 locks along the canal raised or lowered boats. Near most of the locks was a lockhouse which housed the lock keeper and his (or occasionally her!) family. Feeder dams were built on the Potomac River to supply water to the canal. Waste weirs, usually located near a dam, diverted excess canal water back to the Potomac River. Culverts protected the canal by diverting storm water runoff and local streams.
Only one tunnel was built on the canal, but that tunnel is a masterpiece of engineering. The Paw Paw Tunnel, located just past Mile Marker 155, is 3118 feet long and constructed with over six million bricks!
Searchable documents in pdf format are available free for downloading. Learn about the canal's bridges and culverts. Read about Dam 2, Dam 6, or the area known as Four Locks. Learn about the masonry locks or the lockhouses. Read more about the Paw Paw Tunnel. You can even read about the history of the towpath. Some of these files are large, so please be patient.