Paw Paw Tunnel Towpath Open

The rockslide at Paw Paw Tunnel towpath has been cleared. The towpath is now open for hikers and bikers.
Georgetown Boat Rides Suspended

Boat rides at Georgetown are suspended until further notice. For a mule-drawn boat ride please contact Great Falls Tavern.
For Teachers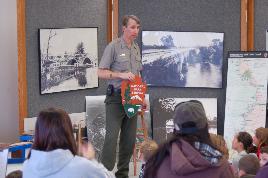 Ranger Led Field Trips
Take your class on a ranger-led field trip to the Chesapeake and Ohio Canal! Walk on the towpath, open and close lock gates at Williamsport, ride a mule-drawn canal boat at Great Falls, hike through the Paw Paw Tunnel. These are some of the activities that await you on your next school field trip. All programs are curriculum based.
Click here for offered programs.
We're Recruiting Volunteers for the 2013 Bridging the Watershed Program Season! More...


Did You Know?
George Washington's dream of connecting the eastern states with the western frontier led to the creation of the Patowmack Company.  Canals were built around unnavigable parts of the Potomac River for improved commerce.  The C&O Canal inherited the right of way after the Patowmack Company's demise.