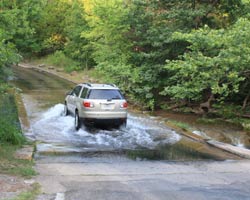 NPS/Chickasaw National Recreation Area
Water Crossings
Three low water crossings are an integral part of the road system in the Platt Historic District.
West of Highway 177 are two crossings where the perimeter road passes over Rock Creek. These crossings are usually above the water level.
East of Highway 177 the Perimeter Road crosses Travertine Creek at the Sycamore Crossing. This crossing is usually covered in several inches of water; motorcyclists are encouraged to use the southeast perimeter road as alternate access for Little Niagara and the Travertine Nature Center.
During periods of high water it is possible that one or more of these crossings may be closed.