Warning to Boaters

Chickasaw National Recreation area is warning all boat users to be cautious while boating on Lake of the Arbuckles due to low water levels in the lake. More »
Swimming Areas Closed

Due to low water flow in Travertine Creek, the Little Niagara, Panther Falls, and Bear Falls swimming areas are closed until further notice. The Little Niagara and Panther Falls picnic areas remain open.
Eagle Bay Boat Launch Closed

Due to low water in Lake of the Arbuckles, Eagle Bay Boat Launch is closed.
Getting Around
Between the Lake of the Arbuckles and the Platt Historic District, the park covers nearly 10,000 acres. Here are a couple things to keep in mind when traveling through the park.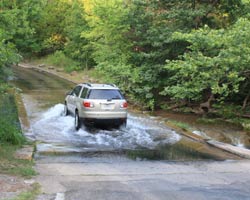 NPS/Chickasaw National Recreation Area
Water Crossings
Three low water crossings are an integral part of the road system in the Platt Historic District.
West of Highway 177 are two crossings where the perimeter road passes over Rock Creek. These crossings are usually above the water level.
East of Highway 177 the Perimeter Road crosses Travertine Creek at the Sycamore Crossing. This crossing is usually covered in several inches of water; motorcyclists are encouraged to use the southeast perimeter road as alternate access for Little Niagara and the Travertine Nature Center.
During periods of high water it is possible that one or more of these crossings may be closed.
Many Entrances, many Exits
Over a dozen entry points provide access into all of the different areas of the park; this can be confusing to first time visitors. A park map may help you gain a better understanding of how to get to where you want to be.
Did You Know?

Russell E. Dickenson, eleventh Director of the National Park Service (May, 1980-March, 1985) served as Chief Ranger at Platt National Park [the present-day Platt Historic District in Chickasaw National Recreation Area] from 1953 to 1955. More...