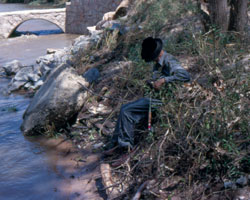 NPS/Chickasaw NRA
Fishing is allowed in the Lake of the Arbuckles, Veterans Lake and along portions of Rock Creek and Travertine Creek. White bass, largemouth bass, crappie, sunfish and catfish are popular catches. A valid state fishing license is required. Wheelchair accessible fishing docks are available at Veterans Lake, and adjacent to the Guy Sandy and The Point boat launches. Rods and reels only are allowed on Veterans Lake. Methods such as trotlines, yo yo's, sail lines, jug lines, nets, and other means of fishing are prohibited, except at Lake of the Arbuckles. Travertine Creek and other bodies of water east of U.S. 177 including the areas east of the Travertine Nature Center are closed to fishing and other recreational use.
Fish Safe
Always keep your own safety in mind. Remembering these four steps may not help you catch more fish, but should allow you to fish another day on the Lake of the Arbuckles.
Fish with a companion who can help in an emergency.
Be careful when handling sharp hooks.
Don't cast near other people, and always look around before making a cast.
Wear a Coast Guard approved personal flotation device or life vest when wading or in a boat.
Fishing for the Future
Good anglers respect our common natural resources and help to conserve them for others to enjoy. Remember, whatever you bring in, be mindful to pack it out when you leave. Old fishing line, plastic containers, glass, and old hooks can be extremely harmful to wildlife.
Oklahoma Hunting and Fishing Licenses

Find out more about how to obtain a hunting or fishing license for use during your visit. Read More

Oklahoma Fishing regulations

Learn more about state fishing rules and requirements. Read More

Boat Launch Permit

An annual permit is available for the Lake of the Arbuckles Read More