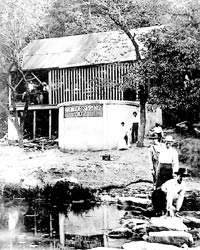 NPS/Chickasaw NRA
At one time, Bromide, Medicine and Sulphur Springs trickled from a fissure at the base of Bromide Hill. Early cattlement knew them as the "Salt Springs." For much of the early history of the park, the waters of the Bromide Spring were the most sought after; early park superintendents limited visitors to one gallon of bromide water per person per day, without a physician's prescription.
In the opening years of the Twentieth Century, many testimonials were written about the curative powers of the water:
"Then there is the bromide spring, which is a sleep producer equal to Jack Johnson's right hook."
- Mark Daniels, 1915
In 1907 a rough springhouse structure was built over the Bromide Spring. Repeatedly damaged by flooding and later greatly improved, the springhouse served visitors until the Civilian Conservation Corps built a new Bromide Pavilion, on the north side of Rock Creek, in the mid-1930s.