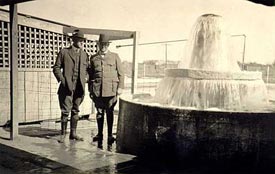 National Park Service Historic Photograph Collection (HPC-000833)
Park Superintendents are responsible for the administration and management of individual park units.
The earliest superintendents of Platt National Park were appointed by, and answered to, the Secretary of the Interior. After 1916, park superintendents were career professionals with the newly established National Park Service.
| | |
| --- | --- |
| 1902-1903 | Frank C. Churchill (Indian Service Inspector) |
| 1903-1907 | Joseph F. Swords |
| 1907-1909 | Albert R. Greene |
| 1909-1913 | William J. French |
| 1913-1919 | R. A. Sneed |
| 1919-1923 | Thomas Ferris |
| 1923-1925 | Robert G. Morris |
| 1925 | Forest L. Carter |
| 1925-1926 | William E. Branch |
| 1926-1930 | King Crippen |
| 1930-1944 | William E. Branch |
| 1944-1951 | Thomas Cal Miller |
| 1951-1954 | Perry E. Brown |
| 1954-1956 | William Supernaugh |
| 1956-1960 | William E. Branch |
| 1961-1963 | Johnwill Faris |
| 1963-1964 | Paul M. Steel |
| 1964-1967 | Donald M. Spalding |
| 1967-1971 | Jack E. Stark |
| 1971-1979 | John Higgins |
| 1979-1981 | Paul V. Wykart |
| 1981-1988 | John D. Linahan |
| 1988-1994 | Robert W. Peters |
| 1994-1995 | Pat McCrary |
| 1995-1997 | John Welch |
| 1998-2001 | Gerard Baker |
| 2001-2003 | Rick Shireman |
| 2003-2006 | Connie Rudd |
| 2006-2015 | Bruce Noble |
| 2015- | William Wright |