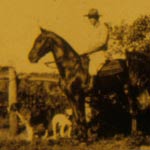 NPS/Chickasaw NRA
Platt National Park's first park ranger
The first park ranger to work in what would become Platt National Park [the present-day Platt Historic District in the Chickasaw National Recreation Area] was Forest S. Townsley. Working here nine years, Townsley then moved to Yosemite National Park, where he had a profound influence on the first generation of career National Park Rangers.
Born in Greeley Center, Nebraska, August 24, 1882, Forest moved with his parents to Guthrie, Oklahoma. At the age of six he rode a horse in the "Great Land Rush" at the opening of the Cherokee Strip, where his father served as Deputy U.S. Marshal.
By the 1890s the Townsley family had relocated to Sulphur Springs, in the Chickasaw Nation. Forest's father, Willis Townsley, was the unpaid caretaker of the Buffalo and Antelope Springs for a few years following the establishment of the Sulphur Springs Reservation in 1902.
Forest started his National Park career on June 18, 1904 at what was later known as Platt National Park, serving first as patrolman and later as park ranger. Ranger Townsley furnished two private animals, at his own expense, used in patrolling the park. Superintendent Swords wrote to the Secretary asking that the rangers who furnished private animals receive an additional sum of twelve dollars per animal per month for its care and feeding. Park Ranger Forest Townsley and a collegue were commissioned as Deputy United States Marshals for the Southern District of Indian Territory out of Ardmore, I.T. Their commission, however, was limited to the confines of the federal reservation.
Besides the customary job of protecting the visitors and maintaining law and order, Rangers Forest Townsley and Robert Earl had to keep the cattle out of the reservation. In April of 1907 the rangers removed 1,466 head of cattle and horses beyond the limits of the Park.
In 1906, the Park still had over one hundred abandoned buildings that were bought by the government during the two segregations. One of the jobs of the rangers was to keep squatters and trespassers out of the old buildings.
After nearly ten years on the job, Townsley relocated to Yosemite National Park as a park ranger in 1913, paying his own moving expenses.