Kin Bineola and Kin Ya' a Great Houses CLOSED

There is no public access.
Weather
Click here for a Microsoft Word document of Chaco's weather statistics.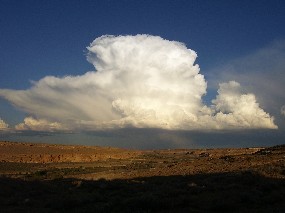 Mandy Harmon
Chaco is located at 6,200 feet in elevation. The weather in Chaco Canyon is unpredictable and can be extreme. Come prepared for all possibilites!
Summer highs are typically in the 80's to mid-90's. Thunderstorms can produce heavy localized downpours and sudden dramatic drops in temperatures. Hypothermia, lightning, and flash floods are real concerns.
Winter temperatures will drop to well below freezing most nights. If you plan to camp in the winter, prepare for nighttime temperatures in the teens or lower.
Spring and Fall are great times to visit with more moderate temperatures, but unexpected storms can change things dramatically. Monitor local weather forecasts.
When hiking the canyon, be prepared for heat, rain, wind, and unexpected changes in temperature. Carry a rain poncho and a jacket or sweater. Wear hiking boots and a wide-brimmed hat, and use sunscreen. Carry and drink extra water. Eat lots of snacks. Take your time adjusting to the altitude and don't overdo.
Did You Know?

A thousand years ago when Chaco was flourishing, you could hear the loud sounds of sea shell trumpets echoing off the canyon walls. The people traded for conch shells with groups along trade routes that stretched deep into present-day Mexico and the Gulf of California. More...