Kin Bineola and Kin Ya' a Great Houses CLOSED

There is no public access.
Reservations required to attend equinox sunrise program

To attend the equinox sunrise program on Monday, September 22 call the visitor center at 505-786-7014. Program will be limited to 100 participants.
Penasco Blanco Trail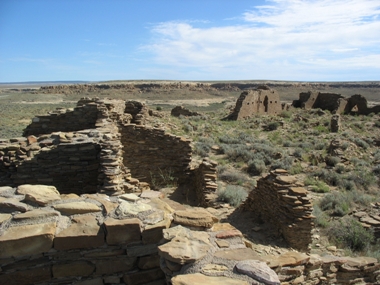 Jedediah Drolet
Distance:
Peñasco Blanco roundtrip 7.2 miles (4-6 hours)
Petroglyph Trail roundtrip 4.0 miles (2-3 hours)
Trailhead: Pueblo del Arroyo parking area
Elevation gain: 200 feet
The longest trail - relatively level - includes two spur trails (the Petroglyph Trail and the Supernova pictograph) where you can view numerous Chacoan and Navajo petroglyphs and historic inscriptions. Peñasco Blanco, an unexcavated great house, has a unique oval design and a spectacular natural setting. Hot summer sun and soft sand can make this a difficult hike.
Did You Know?

During the Late Cretaceous time, Chaco Canyon was at the edge of a large inland sea. Today we can find fossil clam shells, shark teeth, ammonites, and burrows of shrimp-like animals in the canyon rocks.