Kin Bineola and Kin Ya' a Great Houses CLOSED

There is no public access.
Penasco Blanco Trail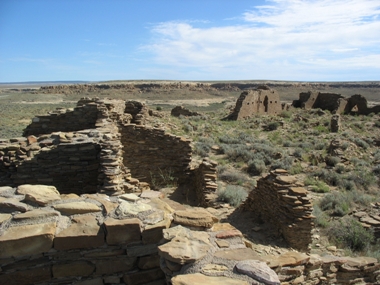 Jedediah Drolet
Distance:
Peñasco Blanco roundtrip 7.2 miles (4-6 hours)
Petroglyph Trail roundtrip 4.0 miles (2-3 hours)
Trailhead: Pueblo del Arroyo parking area
Elevation gain: 200 feet
The longest trail - relatively level - includes two spur trails (the Petroglyph Trail and the Supernova pictograph) where you can view numerous Chacoan and Navajo petroglyphs and historic inscriptions. Peñasco Blanco, an unexcavated great house, has a unique oval design and a spectacular natural setting. Hot summer sun and soft sand can make this a difficult hike.
Did You Know?

The park considered a number of ideas for mitigating the damage that would be done if Threatening Rock fell. Proposed solutions included using dynamite to destroy it, anchoring it to the canyon wall with cables, or clearing out the rock debris behind it. It fell on January 22, 1941.