Kin Bineola and Kin Ya' a Great Houses CLOSED

There is no public access.
Penasco Blanco Trail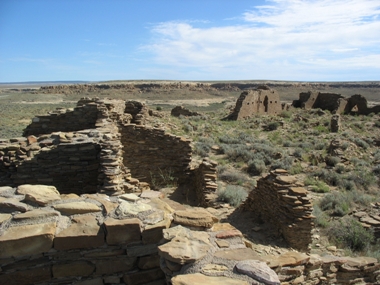 Jedediah Drolet
Distance:
Peñasco Blanco roundtrip 7.2 miles (4-6 hours)
Petroglyph Trail roundtrip 4.0 miles (2-3 hours)
Trailhead: Pueblo del Arroyo parking area
Elevation gain: 200 feet
The longest trail - relatively level - includes two spur trails (the Petroglyph Trail and the Supernova pictograph) where you can view numerous Chacoan and Navajo petroglyphs and historic inscriptions. Peñasco Blanco, an unexcavated great house, has a unique oval design and a spectacular natural setting. Hot summer sun and soft sand can make this a difficult hike.
Did You Know?

The great kiva at Casa Rinconada is 63 feet in diameter, is almost perfectly round, and is aligned on a north-south axis. Hundreds of people would have participated in ceremonies in such a large and important space. More...