Kin Bineola and Kin Ya' a Great Houses CLOSED

There is no public access.
Reservations required to attend equinox sunrise program

To attend the equinox sunrise program on Monday, September 22 call the visitor center at 505-786-7014. Program will be limited to 100 participants.
Operating Hours and Seasons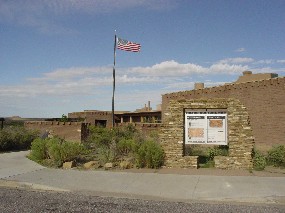 NPS Photo
Operating Hours & Seasons
The park is open every day from 7:00 a.m. to sunset. The Visitor Center is open from 8:00 a.m. to 5:00 p.m. The Visitor Center is closed on Thanksgiving, Christmas Day, and New Year's Day but the park's roads, sites, trails and campground will remain open.
Did You Know?

During the Late Cretaceous time, Chaco Canyon was at the edge of a large inland sea. Today we can find fossil clam shells, shark teeth, ammonites, and burrows of shrimp-like animals in the canyon rocks.