Kin Bineola and Kin Ya' a Great Houses CLOSED

There is no public access.
Casa Chiquita Bike Trail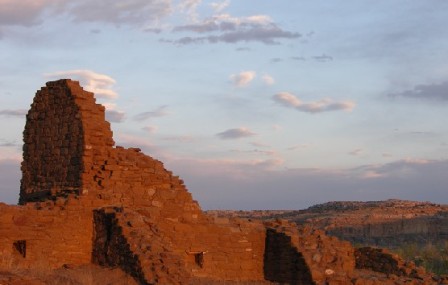 Trailhead: Beyond Pueblo del Arroyo parking area
Distance: 2 miles roundtrip

Elevation gain: 150 feet
Time: 1 hour
Note: You may only ride a bike as far as Casa Chiquita. From there, you must hike to Penasco Blanco.
Permit required: Obtain a free permit at the Visitor Center, from a campground host, or self register at trailhead.
Casa Chiquita is a compact great house dating to the AD 1060s--possibly earlier--and thought to have been built in one construction episode. this site features a nearly square block of rooms surrounding an elevated kiva. The entire site was built into and on top of a natural hillside. The great house shares features in common with nearby Kin Kletso. Both sites are built in the McElmo style. This later style of construction uses the Chacoan great house plan with a different type of masonry--pecked, loaf-shaped blocks of tan sandstone. Both sites also feature a row of tiny, one-storey rooms along the front of the building
Did You Know?

Chaco Culture NHP has a herd of 50 -60 elk. They migrated into the park in 2000, liked it here and stayed. More...