Kin Bineola and Kin Ya' a Great Houses CLOSED

There is no public access.
Reservations required to attend equinox sunrise program

To attend the equinox sunrise program on Monday, September 22 call the visitor center at 505-786-7014. Program will be limited to 100 participants.
Bicycling at Chaco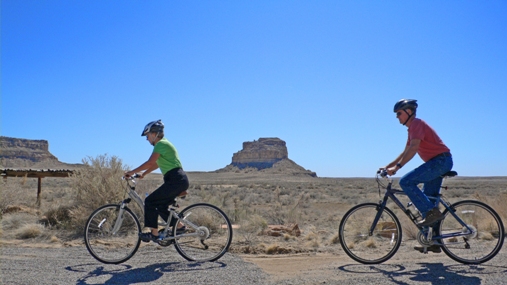 Tanya Ortega de Chamberlain
Bicycling is a great way to visit many of the Chacoan sites and to experience the canyon, its wildlife, its solitude, and the ever-changing environment. Below are the bicycling options to consider.
---
The Canyon Loop Drive
Bicycling the 9-mile paved Canyon Loop Drive is an excellent way to begin. The road is nearly level, and open from sunrise to sunset. Bike racks are located at the Visitor Center and the parking areas at the Chacoan sites: Hungo Pavi, Pueblo Bonito and Cheto Ketl, Pueblo del Arroye, and Casa Rinconada. The drive begins just beyond the Visitor Center. Please remember that the road is one way. Be alert for traffic. Please stay on the road and designated bike trails.
---
For your comfort and bicycling safety
*Wear a helmet.
*Secure bikes at the bike racks.
*Follow the rules of the road and be alert for vehicles. Please ride single file.
*Carry plenty of water and snacks with carbohydrates.
*Prepare for extreme weather. Bring along sun protection, a hat, and rain gear.
---
Your can help protect and preserve this significatant park of our work heritage by following basic rules:
*Do not collect pottery or other protected artifacts, plants, or rocks anywhere in the park.
*Do not walk, climb, sit, or lean on fragile walls.
*Stay on designated roads and trails. Do not take bikes cross country or into sites.
*Pets are not permitted in sites.
*The Chacoan sites and the Canyon Loop Drive close at sunset. Camping only in Gallo Campground.
*Night riding requires lights and reflectors, and is limited to paved roads and the campground road.
Did You Know?

The great kiva at Casa Rinconada is 63 feet in diameter, is almost perfectly round, and is aligned on a north-south axis. Hundreds of people would have participated in ceremonies in such a large and important space. More...