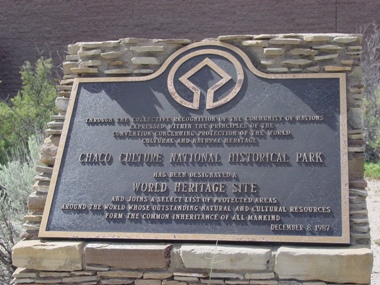 The 1972 World Heritage Convention identifies ten criteria for assessing "outstanding universal value." The United States Department of the Interior nominated Chaco Culture under the third criterion: "to bear a unique or at least exceptional testimony to a cultural tradition or to a civilization which is living or which has disappeared." The park's statement of significance points to the monumental and distinctive architecture, the sophisticated astronomical understanding, and the complex road system as defining elements of this ceremonial, trade, and political center (
UNESCO World Heritage website
). Of course the civilization that flourished at Chaco 1,000 years ago was exceptional, but the park's modern-day UNESCO inscription is unique as well because it includes sites outside the park, some owned by the Bureau of Land Management, the State of New Mexico, and the Navajo Nation. When the World Heritage Committee reviewed Chaco's application in 1987, it enthusiastically recommended the park for inclusion but also suggested that the United States government consider including other impressive examples of Puebloan culture. As a result,
Aztec Ruins
, Pierre's site, Halfway House, Twin Angels,
Salmon Ruins
, Kin Nizhoni, and Casamero are all part of the World Heritage designation.