Field Trips
Why Visit Chaco?

Chaco Culture National Historical Park preserves one of America's most significant and fascinating cultural and historic areas. Chaco Canyon was a major center of ancestral Puebloan culture between AD 850 and 1250. It was a hub of ceremony, trade, and administration for the prehistoric Four Corners area - unlike anything before or since. The Chacoan people combined pre-planned architectural designs, astronomical alignments, geometry, landscaping, and engineering to create an ancient ceremonial center of spectacular public architecture - one that still amazes and inspires us a thousand years later.

The Chacoan cultural sites are fragile and irreplaceable and represent a significant part of America's cultural heritage. The sites are part of the sacred homeland of Pueblo Indian peoples of New Mexico, the Hopi Indians of Arizona, and the Navajo Indians of the Southwest, all of whom continue to respect and honor them.

Chaco Culture National Historical Park is a very special place. Remote and isolated, it offers few amenities, so come prepared. You will find that the rewards are unlimited. This information is to assist you in planning your upcoming visit to the park. Please read all the information carefully.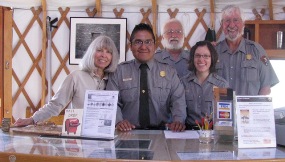 NPS Photo
Protecting the Park

Even if you are only staying for the day, be sure to call ahead of time so we can prepare for your visit and help you plan your time. Call the visitor center at 505-786-7014 x 0. Please discuss appropriate behavior in the park with your students before you arrive. Important guidelines are available here.

The Visitor Center should be your first stop. You can check in, get maps, and receive a short orientation from a ranger.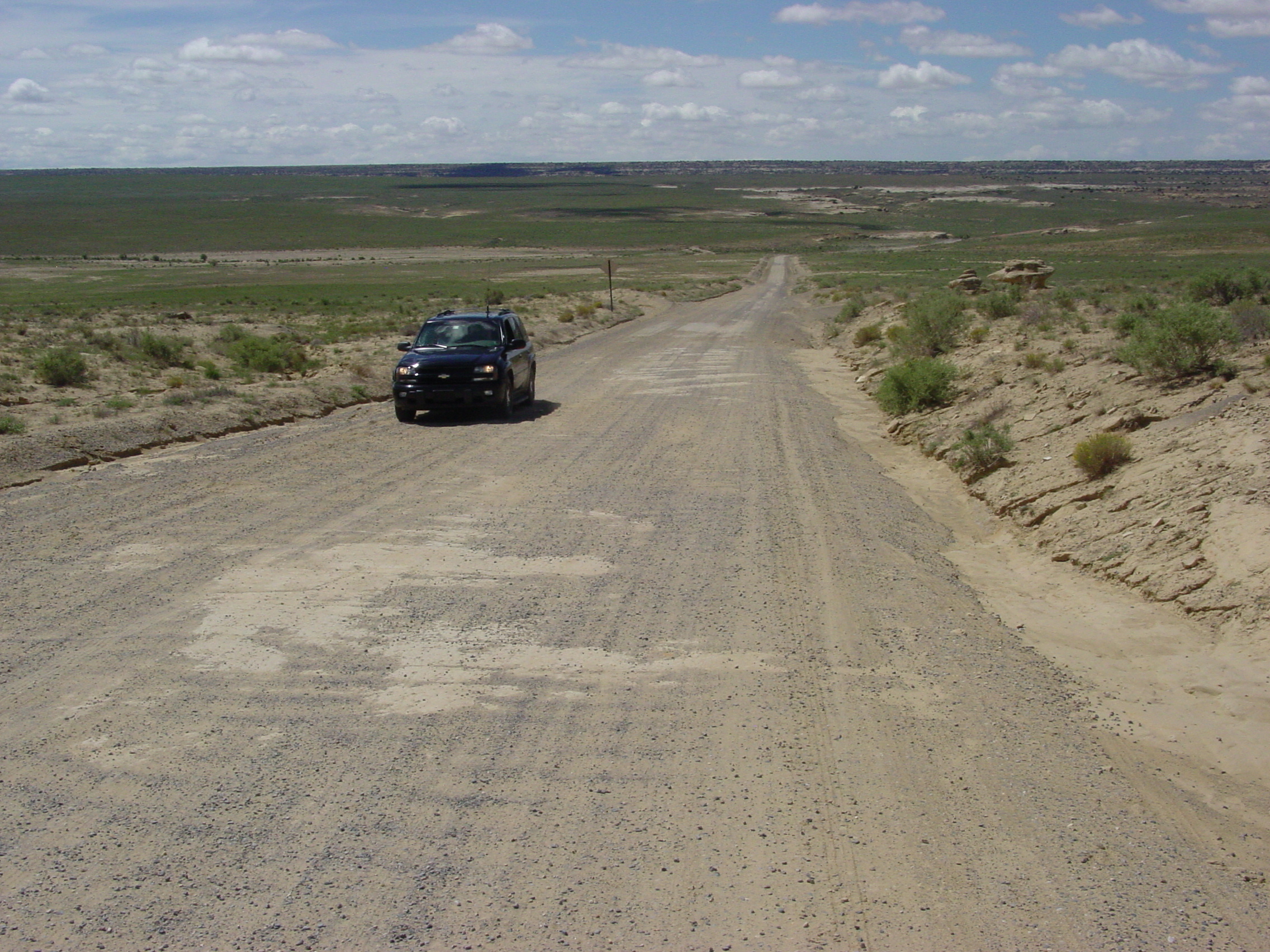 NPS Photo
Directions

All routes into the park include infrequently maintained dirt roads that can become impassable during inclement weather. The recommended route is from the north, via highway 550. Turn onto CR 7900 from US 550 at mile marker 112.5 (you will see a sign for the park). This route includes 8 miles of paved road and 13 miles of rough dirt road (CR 7950). Click here for complete directions, maps, and other options for accessing Chaco.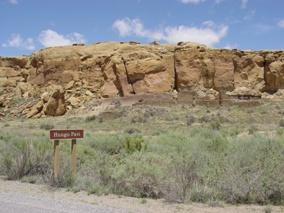 NPS Photo
Self-Guided Trails

You can see the majority of the cultural sites in the park on short, self-guided trails. Six major sites are located along the 9-mile long Chaco Canyon Loop Drive. These sites include Una Vida, Hungo Pavi, Pueblo Bonito, Chetro Ketl, Pueblo del Arroyo, and Casa Rinconada. You may purchase self-guided trail guides at the visitor center bookstore or at the trailheads for these sites. Due to limited staffing, rangers are not available to offer school groups special ranger-guided tours. Depending on the size of your group, you may choose to join a regularly-scheduled ranger-guided tour.

The park also has four backcountry hiking trails, ranging in length from 2 to 7.5 miles. Information about these trails is available here. They require a backcountry permit, which is free and available at the trailhead or at the visitor center. The trails are marked by cairns (stacked piles of rocks), and, in some areas, by upright wooden posts. If you lose the trail, go back to the previous cairn or post and scan the landscape for the next one. Walk on established trails to avoid damaging the cultural sites, fragile plant cover, soft desert soils, and microbiotic crusts.

All trails are open sunrise to sunset.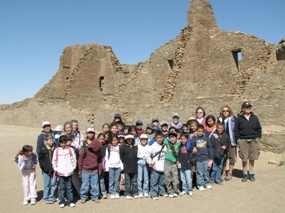 NPS Photo
Picnic Areas

There are eight picnic tables and five shade shelters in the visitor center area. Pueblo Bonito and Casa Rinconada each have one picnic table with a shade shelter, and Pueblo del Arroyo has two picnic tables with shade shelters.

Restrooms

Like all park facilities, the restrooms are open year-round. There are handicap-accessible flush toilets at the visitor center and Gallo campground. There are vault toilets at Pueblo Bonito/Chetro Ketl parking lot (handicap accessible), Casa Rinconada parking lot (handicap accessible), and Kin Kletso (for permitted hikers on Pueblo Alto and Penasco Blanco trails).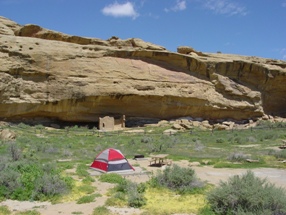 NPS Photo
Group Camping
Two group camping sites (10 to 30 people in each) are available. The maximum capacity of the group campground is 60 people. Group campground reservations must be made in advance by calling the park at (505) 786-7014 ext. 221. The cost for group camping is $2.00 per person, per night with a minimum fee of $25.00.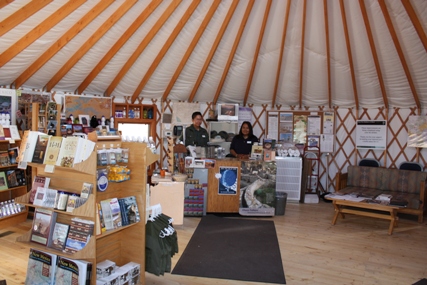 NPS Photo
Food, Books, and Gifts
There are no food concessions in the park!
Bring all the food, drinks, and snacks that you and your group will need. The
Western National Parks Association
bookstore at the visitor center sells books, gifts, postcards, film, videos, and t-shirts. To order you may call (505) 786-7014 ext. 265.
Take Care of Our Past and Be Safe
- Prehistoric walls are fragile and crumble easily if walked upon. Please stay on the established trails and off the walls. Never write on the canyon walls or rocks.
- All artifacts, plants, rocks, and animals should be left undisturbed. Collecting is not permitted.
- Wear sturdy walking shoes or hiking boots.
- Be aware of low doorways, drop-offs into open and unroofed kivas, uneven walking surfaces, and ice or snow.
- Temperatures can reach 100°F in the summer. Hot, arid weather conditions sap energy and commonly lead to dehydration and heat exhaustion, so drink lots of water. Use sunscreen, wear a hat, and remember to eat snacks with carbohydrates.
- Be prepared for high-desert elevations of 6,200 to 6,600 feet. If you are coming from a lower elevation, give yourself time to adjust. Take it easy and don't over do it.
- Sudden summer thunderstorms can bring soaking rain and drastically falling temperatures. Come prepared with proper clothing and bad weather gear (rain ponchos).
- Keep your camp or picnic area clean. Food crumbs will attract wildlife.
- Never throw rocks, sticks, or other objects from the mesa tops.
Park Contacts

Write to
Chaco Culture National Historical Park
PO Box 220
Nageezi, NM 87037-0220

Fax (505) 786-7061
Phone (505) 786-7014 ext. 221