No Access to Kin Bineola

There is currently no access the the Kin Bineola Great House due to road damage.
The Center of a Culture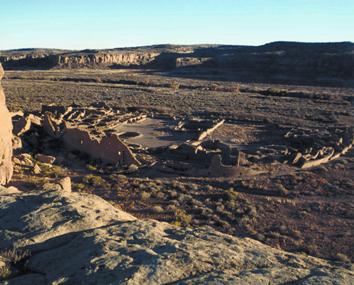 From AD 850 to 1250, Chaco was a hub of ceremony, trade, and administration for the prehistoric Four Corners area--unlike anything before or since. Chaco is remarkable for its multi-storied public buildings, ceremonial buildings, and distinctive architecture. These structures required considerable planning, designing, organizing of labor, and engineering to construct. The Chacoan people combined many elements: pre-planned architectural designs, astronomical alignments, geometry, landscaping, and engineering to create an ancient urban center of spectacular public architecture--one that still awes and inspires us a thousand years later.
Did You Know?
The earliest map of the Chaco region was drawn in 1778 by Spanish cartographer Bernardo de Miera y Pacheco. The map identified Chaco Canyon area as "Chaca." "Chaca" is believed to be the origin of both "Chacra" (a nearby mesa) and "Chaco." More...