Kin Bineola and Kin Ya' a Great Houses CLOSED

There is no public access.
Reservations required to attend equinox sunrise program

To attend the equinox sunrise program on Monday, September 22 call the visitor center at 505-786-7014. Program will be limited to 100 participants.
The Center of a Culture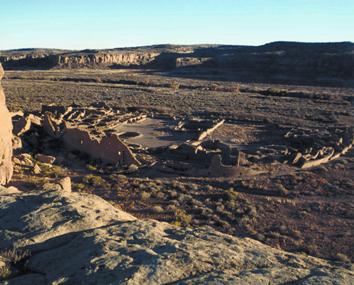 From AD 850 to 1250, Chaco was a hub of ceremony, trade, and administration for the prehistoric Four Corners area--unlike anything before or since. Chaco is remarkable for its multi-storied public buildings, ceremonial buildings, and distinctive architecture. These structures required considerable planning, designing, organizing of labor, and engineering to construct. The Chacoan people combined many elements: pre-planned architectural designs, astronomical alignments, geometry, landscaping, and engineering to create an ancient urban center of spectacular public architecture--one that still awes and inspires us a thousand years later.
Did You Know?

In 1937, a Civilian Conservation Corps group began work at Chaco. An all-Navajo crew of stonemasons repaired many of the excavated Chacoan buildings. Preservation measures continue to this day, and several members of the NPS preservation crew are second and third generation stonemasons. More...