No Access to Kin Bineola

There is currently no access the the Kin Bineola Great House due to road damage.
Group Campsite
Reserving a Group Campsite
You must make separate arrangements for Group Campground Reservations and for Educational Fee Waivers.
Two group camping sites (10 to 30 people in each) are available. The maximum capacity of the group campground is 60 people. Group campground reservations must be made in advance at www.recreation.gov or by calling 1-877-444-6777. The cost for group camping is $60.00 per night per site.
The group campsites are designed for tent camping, and cannot accommodate RVs, pop-up trailers, etc. There is sufficient parking for 4-5 vehicles in each group site. Picnic tables and a fire ring (with a grill) are provided at each site. There are restrooms in the campground with flush toilets; however, there are no showers. Firewood and charcoal are not available in the park, so bring your own. Wood gathering is not permitted. Drinking water is available at the visitor center parking area.
Did You Know?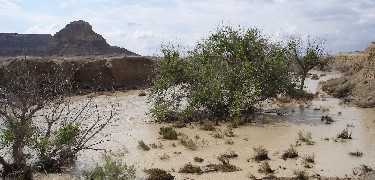 A 20 km segment of Chaco Wash courses through the park. Its flows are derived from summer thunderstorms and winter snowmelt within a 2,175 km2 watershed. The wash is presently incised into a steep-walled arroyo which has a well-developed floodplain and a small inner channel on the arroyo floor.