Join the Conversation
Do you have a question about something you saw on the river today? Or about what you might see there when you come visit? Maybe you have some advice for first-time paddlers, or some native plant lore to share. The social media team at Chattahoochee River National Recreation Area would like to invite you to join us online in a more interactive setting. Visit our Facebook page and post your questions, comments, photos, and videos. Follow us on Twitter and get updates on river conditions and upcoming events in the park.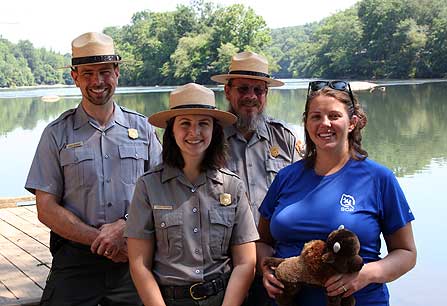 NPS
Meet
The Team
Left to right:
Rudy Evenson (RE)
Larisa Nachman (LN)
John Huth (JH)
Megan Beezley (MB)
Megan Beezely (MB)
Megan Beezley has worked at the park since May of 2010- first as Junior Ranger Ambassador and currently as a Student Conservation Association intern in the Science and Resource Management division. She grew up in Duluth and spent much of her youth walking down to the Chattahoochee and playing on its banks. She attended Georgia State University, where she graduated with a bachelor's in Journalism with a minor in German in 2008. Her plans changed after the summer of 2007, when she served as an interpretation intern at El Morro National Monument in Ramah, New Mexico and realized she could combine her love of the outdoors with a career with the National Park Service. She earned her Georgia Master Naturalist Certification in June 2012, and in her free time, she enjoys hiking, camping, traveling and kayaking.
Rudy Evenson (RE)
Rudy Evenson is the new chief of visitor services at Chattahoochee River National Recreation Area. He supervises interpretation, education, public information, fee collection, and volunteer programs at the park. He started at the park on May 7 after 4 years of working as a fire information officer in the NPS regional office (@southeastnps.) Before that, he worked for 8 years as chief of special park uses at Golden Gate National Recreation Area in San Francisco. In addition to a doctorate in history (1998), he has master's degrees in both history and education from the University of Oregon.
John Huth (JH)
John Huth arrived at Chattahoochee River National Recreation Area in August of 2002 where he serves as a park ranger responsible for publications, website, exhibits, and an occasional Kids' Fishing Day. While attending Southern Illinois University he had his first brush with computers, keypunching cards for an Advanced Ecology class. The day after graduation he began his career with the NPS as a seasonal park technician at Lincoln Home National Historic Site in his hometown of Springfield, Illinois. He got the itch to move west and worked for the Bureau of Land Management as a seasonal recreation technician on the Rouge Wild and Scenic River in Southwestern Oregon and at a campground near Elko, Nevada. Staying with the Bureau in Nevada he worked as a YACC project supervisor and a YACC camp director. In 1987 he returned to the NPS as a park ranger and has worked at Great Basin National Park, St. Croix National Scenic Riverway, Martin Luther King, Jr. National Historic Site, Virgin Islands National Park, and on to the Chattahoochee.
Larisa Nachman (LN)
Larisa has been working at the Chattahoochee River National Recreation Area since October 2009. After visiting national parks in California, Montana, and Alaska, the Georgia native landed her dream job as a Park Ranger in her own hometown. She is a student employee with a background in communications and is now studying Modern Language and Culture with a concentration in Spanish. She spends her work days exploring the park's trails, streams, and ponds with school groups and other visitors of all ages. While connecting visitors to park resources, Larisa is constantly gaining new knowledge about the river corridor's rich history and biodiversity. As a member of CRNRA's social media team, Larisa enjoys sharing her field observations and photos with Facebook fans.
Facebook

Don't be such a stranger, "Like" Chattahoochee River National Recreation Area today! Read More

Twitter

Follow Chattahoochee River National Recreation Area on Twitter for accurate and timely information about the park. Read More

Instagram

Do you have some great photos taken at Chattahoochee River National Recreation Area that you would like to share? Post your best on our Instagram page. Read More