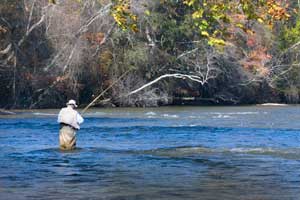 ©Tom Wilson
Special Delayed Harvest Trout Stream regulations apply to the Chattahoochee River from Sope Creek downstream to U.S. 41, Cobb Parkway, from November 1 to May 14 annually. Anglers in this section must release all trout immediately upon landing. Anglers can use and possess only artificial lures with one single hook per lure. The use of additional "dropper" lures on one line is permitted as long as each lure contains one single hook. Trout fishing in this section can be excellent during the Delayed Harvest season when catches of 20-30 trout are reported. Approximately 50,000 trout are stocked from early November through late April.
General Trout Stream Regulations apply from May 15 to October 31 of each year.
Georgia fishing regulations apply to waters in Chattahoochee River National Recreation Area. Persons 16 years of age and older must possess a current Georgia fishing license and trout stamp to fish in the Chattahoochee River. For a complete listing of all Georgia fishing regulations visit the Georgia Department of Natural Resources website at http://www.georgiawildlife.org/fishing/regulations.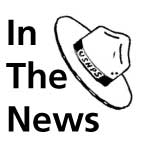 Delayed Harvest Trout Stocking
A Fox 5 Atlanta news reporter shot video of the Buford Trout Hatchery staff stocking brown and raindow trout naear Cochran Shoals on the Chattahoochee River. Delayed Harvest Trout Streams, which have special regulations from November 1-May 14, are regularly stocked by Wildlife Resources Division and U.S. Fish & Wildlife Service. It's a good reminder that it's time to go fishing!