Johnson Ferry Intermittent Trail Closures

Representatives of Colonial Pipeline Company will be working on the gas pipeline in the Johnson Ferry North unit. The work will require intermittent trail closures. For your safety please stay on designated trails and obey all trail closures.
New Bee Species Found in Park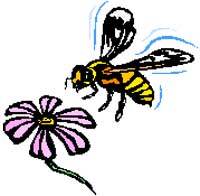 To date, 5, and possibly 7, new species of bees have been identified during a pollinator study at the Cochran Shoals unit of the park. Thanks to Melina Duran, a volunteer with the Southeast Regional Office (SERO) of the National Park Service and a student of Engineering in Agroecology from the University of Chapingo in Mexico, the new species are also new records for the state of Georgia! The study is collaboration among CRNRA, SERO, the NPS Washington Office, the United States Geological Survey, and the Coevolution Institute. The identification process has just begun and many samples have yet to be identified. Stay tuned as more information comes in!
Post A Comment
Did You Know?

That the word Chattahoochee is thought to come from a Muskogean word meaning "Marked Stoned." People have made the Chattahoochee River valley their home for thousands of years. The Cherokee were forced out in the 1830s as part of the "Trail of Tears".