Things To Do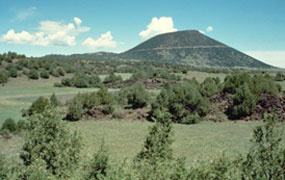 Capulin Volcano National Monument offers a variety of activities for the visitor. With nearly five miles of hiking trails, visitors can experience a varied landscape. See the Rocky Mountains from the volcano top, or explore Capulin's very own lava flow at its base. For our younger visitors, Junior Ranger and
Junior
Junior Ranger books are available by request. Stop by the Visitor Center to check out the park film and pick up a brochure before heading up to the rim.
The paved 2 mile Volcano Road to the top and paved trails into the crater and around its rim provide access to explore the volcano and 360 degree views of the surrounding area. While you're there, listen to a ranger-led interpretive program to get a better understanding of Capulin's geology, ecology, and history.


Did You Know?
Distinctive projectile points found in 1928 imbedded amongst bones from an extinct Bison stunned archeologists and changed the known date of human arrival in the new world from 3,000 years ago to more than 10,000 years ago. The points were named Folsom after the nearby town.