Operating Hours & Seasons
Cane River Creole National Historical Park consists of Oakland Plantation and the outbuildings of Magnolia Plantation. Grounds of both sites are open from 8:00 a.m. until 4:00 p.m. daily, and self-guiding maps are available on-site. A guided tour of the Oakland Plantation main house is conducted by a ranger every day at 1:00 p.m. Depending on staff levels, more tours may be available. Please call us at 318 356-8441.


Did You Know?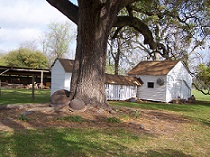 The complexity, integrity, and completeness of the park's extant vernacular architecture illustrate Creole resilience, resourcefulness, and adaptations to the environment.