Operating Hours & Seasons
Cane River Creole National Historical Park consists of Oakland Plantation and the outbuildings of Magnolia Plantation. Grounds of both sites are open from 8:00 a.m. until 4:00 p.m.. daily, and self-guiding maps are available on-site. A guided tour of the Oakland Slave/Tenant Quarters are available at 12:30 p.m. daily. The Oakland Plantation main house tour is conducted by a ranger every day at 1:00 p.m. Depending on staff levels, more tours may be available. Please call us at 318 356-8441.


Did You Know?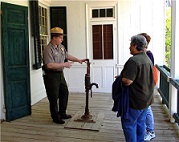 Cane River Creole National Historical Park preserves the resources and cultural landscapes of the Cane River region and enhances the understanding of its peoples and traditions through research, interpretation, education and technical assistance.