Contact Us
Oakland Plantation
4386 Highway 494
Bermuda, LA 71456
(318) 356-8441
*This is the primary phone number for any visitor questions.
Magnolia Plantation
5549 Highway 119
Derry, LA 71416
(318) 379-9114
*Staff will only answer phone on Saturday or Sunday. For all weekday inquiries call (318) 356-8441.
For e-mail inquiries: e-mail us
Park Administrative Office- 400 Rapides Drive Natchitoches, LA 71457 (318) 352-0383. All mail inquiries must be sent to this address.


Did You Know?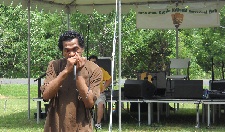 Bobby Rush, Blues Hall of Famer and headliner of the 2010 Cane River Music Festival was born in Homer, Louisiana.