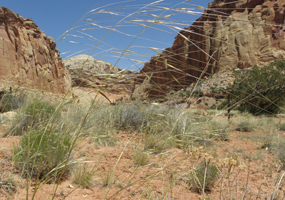 NPS
Common Name: Needle-and-Thread
Scientific Name: Hesperostipa comata
Size (height): 1-4 ft (0.3-1.2 m)
Habitat: Grows at elevations between 4,000-7,500 ft (1,200-2,300 m) where annual precipitation is 10-18 in (25-46 cm).
Range: From British Columbia and the Yukon to Ontario, south to California, New Mexico and Texas
Description: Needle-and-thread is a cool season, perennial bunchgrass that starts growing in early spring. Its seedhead is a loosely spreading panicle that is 4-8 in (10-20 cm) long. The name is derived from its sharp-pointed seed attached to a long twisted awn giving the appearance of a short needle and long thread. As the twisted awn unwinds, it drives the seed into the soil. Needle-and-thread grass is considered good forage in spring prior to awn development and again in fall after seed is dropped. If grazed by livestock or wildlife when seeds are ripe, the sharp seed may cause injury to the tongue, throat, eyes and ears. Needle-and-thread is very drought tolerant and is very effective in preventing wind erosion on sandy soils.