Hiking & Backpacking in the Maze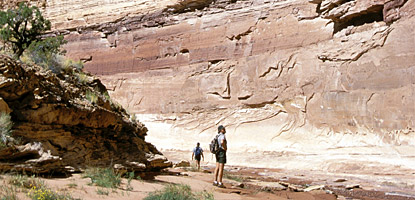 NPS Photo by Neal Herbert
Trails in the Maze are primitive and lead into canyons and to various viewpoints. Due to the nature and depth of Maze canyons, access to them is limited. Routes into the canyons are cairned from mesa top to canyon bottom, but routes through washes are often unmarked. Many of the canyons look alike and are difficult to identify without a topographic map. The Maze Overlook Trail and other routes in the district require basic climbing maneuvers in order to negotiate sections of steep slickrock and pour-offs. A 25-foot length of rope is often essential for raising or lowering packs in difficult spots. Many routes may make hikers with a fear of heights uncomfortable.
Permits are required for all overnight trips in the backcountry. During the spring and fall, demand for permits frequently exceeds the number available. If you plan to visit Canyonlands during peak season, it is recommended that you make reservations well in advance. Backpackers stay in at-large zones. There are several reliable springs in the canyons of the Maze, and the status of these springs is available at the Hans Flat Ranger Station.
Getting to Trailheads
Most trailheads start from four-wheel-drive roads. Visitors with two-wheel-drive vehicles may park at the North Point Road junction, approximately 2.5 miles southeast of the Hans Flat Ranger Station, and hike 15 miles to the Maze Overlook. Depending on the vehicle, hikers may also be able to negotiate the 14-mile road to park at the top of the Flint Trail switchbacks.
Another popular way for backpackers to reach the Maze is via jet boat shuttle from Moab. A two-hour shuttle provides access to Spanish Bottom on the Colorado River. From there, a foot trail climbs over 1,000 feet to the Doll House. Jet boat shuttles are available from two companies:
Tex's Riverways: (877) 662-2839 or (435) 259-5101
Tag-A-Long Expeditions: (435) 259-8946
A Conversation with Ned Chaffin

In the 1930s and 40s, Ned Chaffin and his family ran cows in what is now the Maze District. Read More

Need a Map?

Maps of each district as well as the entire park are available. Read More

This Fragile Desert

Watch a short video and learn to help preserve the park while you're here. Read More